LG launches KizON, a wearable device that helps parents keep track of their kids
5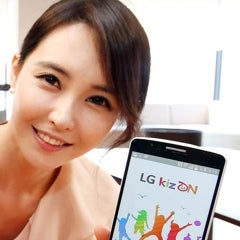 LG just announced a new wearable device - and it's not an
Android Wear-powered
one. Called LG KizON, the new product aims to offer parents "a convenient way to keep track of their young children's whereabouts." Specifically designed for pre-school and primary school kids, the KizON basically looks like a toy. But it's a useful toy, that's for sure.
The KizON features 3G, GPS and Wi-Fi, enabling parents to see where their kids are in real-time - via any smartphone or tablet that runs Android 4.1 or later. Parents can communicate with their children thanks to what LG is calling "One Step Direct Call." Kids can make calls from the KizON, too, but only to a pre-configured phone number. The LG KizON is water- and stain-resistant, being made out of eco-friendly Polythiourethane (PTU) material. Its 400 mAh battery lasts up to 36 hours on a single charge, and parents can be alerted whenever battery life falls below 25%.
"Children as well as the elderly are ideal customers for wearable technologies. Wearables allow us to stay connected without the worry of losing a device or the inconvenience of having to carry a large item in a pocket. At LG, we're committed to exploring more ways to incorporate wearable devices into consumers' lives in line with our vision to become a leader in wearables," declared Dr. Jong-seok Park, president and CEO of LG Electronics Mobile Communications Company.
LG didn't say how much the KizON would cost. However, we know that the device will be released in South Korea on July 10 (in three color versions), and it should be introduced in North America and Europe later this quarter.
source:
LG