LG announces the first color phone with Imbedded Camera for cdma2000 1x EV-DO Service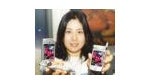 LG Electronics is solidifying its leadership in the 3G handset market. It has become the world's first to introduce a handset with camera for cdma2000 1x EV-DO service to be launched this month.
The new Cyon color phone (Model: LG-KH5000) is for cdma2000 1x EV-DO service - the new high-speed data service, and comes with a 2.2-inch TFT-LCD screen to offer clear images and has a camcorder-like rotating LCD and not the conventional fixed handset LCD so that users can use the embedded camera to take pictures without any restrictions.
LGE's new cdma2000 1x EV-DO color handset comes with an innovative camcorder style screen that rotate freely at 270 degrees. This eliminates the inconveniences found in existing detachable exterior camera phone as you can take pictures from any direction looking through the LCD screen. Therefore, it is more user friendly than conventional handsets with fixed LCD screen.
Moreover, LGE's new color handset for cdma2000 1x EV-DO service support all the latest service features. For example, it not only supports existing simple text messaging, but also MMS that delivers text as well as images, sounds, and other multimedia data to the recipient's handset or email along with LMS that can send long sentences (up to 500 Korean characters) as one message.
The new color handset also comes with 110,000 pixel high quality CMOS (Complementary Metal-Oxide Semiconductor) camera, and these photos can also be sent via e-mail, allowing free exchange and transmission of high quality photos anytime, anywhere. The handset also supports other advanced features like 3-step selection of image resolution (88x72, 176x144, 352x288 dot), image quality control (low, medium, high), and image conversion.
LG-KH5000 handset of LGE also supports maximum 2.4Mbps download and will also offer VOD (Video On Demand) service in the future.
This ground-breaking innovative color handset also comes with 40 chord midi chip so that users can enjoy surround sound comparable to powerful orchestra sound at karaoke. Special attention was also paid to the convenience of English users in Korea with Korean/English conversion support.
In addition to the new color handset for cdma2000 1x EV-DO, LGE also plans to introduce new luxuriously designed cdma2000 1x color handset with organic EL, the much touted next generation display, this month to bolster its leadership in color handset market.
- World's first color phone with camera for cdma2000 1x EV-DO... comes with camcorder style LCD screen that can rotate 270 degrees
- Can support latest MMS (Multimedia Message Service) and LMS (Long Message Service) through the camera with 110,000 pixels and 2.2-inch TFT-LCD screen
- Video On Demand service also possible* (To support future service releases)
- Comes with 40 chord orchestra sound and Korean/English menu conversion for English users