LG VX8350 for Verizon
This article contains unofficial information.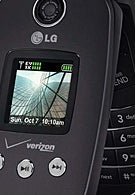 LG VX8300
has been one of the best selling phones for Verizon Wireless.However, in recent months, with hot new models such as the Chocolate and enV being released, the VX8300 is no longer as popular as it once was. Now, Verizon is hoping to change that with the introduction of the updated VX8350 beginning in September.
The
VX8350
will now feature an internal antenna, MicroSD support up to 4GB, and the OLED External Display has been replaced with a 262K Color TFT. The body of the phone is also more rounded and stylish that the original. Most other features remain the same, such as a 1.3MP camera, 176x220
Pixel
262K Color Internal Display, MP3 Playback with front controls, and Stereo Bluetooth.
The VX8350 does not have a release date, but is going to be shipped to stores as their current VX8300 stock is deplinished over the next few weeks.
Pricing of the new VX8350 is:
$129 - $50 Rebate = $79 with 2 Year Contract
$179 - $50 Rebate = $129 with 2 Year Contract
$249 Full Retail (no contract or rebate)

The Interactive Manual Can be
viewed here
.
source: Omie