LG Spectrum vs Samsung Galaxy Nexus vs HTC Rezound: specs comparison
13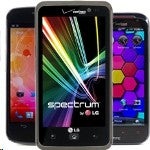 Other carriers must be throwing Verizon the nasty eye now that it is a carrier with not one or two, but three phones with HD displays and LTE connectivity onboard.
The announcement of the
LG Spectrum
, which will land on Big Red in ten days, makes the already daunting task of picking a smartphone on Verizon downright formidable now.
That is why we are sizing the HD trio up for you in terms of sheer spec numbers, hoping to paint a clearer picture out of the "too much choice" phenomenon that is shaping up at the nation's largest carrier.
The LG Spectrum,
Samsung Galaxy Nexus
and
HTC Rezound
share a lot in common at first look, like HD displays, LTE connectivity, and 1080p video capture, yet are pretty different when you come down to the details. Let the numbers do the talking here, but the LG Spectrum marks a welcome change in Verizon's high-end LTE pricing scheme, coming at $199 at launch.



LG Spectrum
Samsung Galaxy Nexus
HTC Rezound
Platform
Android (2.3.4)
Android (4.0.1)
Android (2.3.4)
Display
4.50 inches, 329ppi,
IPS-LCD
4.65 inches, 316ppi, HD Super AMOLED
4.30 inches, 342ppi,
S-LCD
Dimensions
5.33 x 2.71 x 0.42
(135 x 69 x 11 mm)
5.33 x 2.67 x 0.37
(135.5 x 67.94 x 9.47 mm)
5.08 x 2.58 x 0.54
(129 x 65.5 x 13.65 mm)
Weight
4.99 oz (140 g)
5.29 oz (150 g)
6.00 oz (170 g)
Processor
Dual-core, 1.5GHz, Snapdragon S3
Dual-core, 1.2GHz, TI OMAP 4460
Dual-core, 1.5GHz, Snapdragon S3
RAM
1GB
1GB
1GB
Rear Camera
8MP, 1080p video recording
5MP, 1080p video recording
8MP, 1080p video recording
Front Camera
yes
yes
yes
Storage
4GB internal + 16GB microSD card
32GB internal
16GB internal + 16GB microSD card
Battery
1830mAh
1850mAh
1620mAh
Price
$199
$299
$199
Now which one of these cream of the crop Androids on Verizon tickles your fancy?