LG Optimus 3D 2 hinted, to pack glasses-free 3D goodness in a super slim waistline
6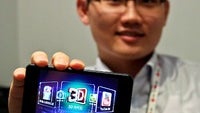 The
LG Optimus 3D
may have just materialized stateside in the form of the
AT&T-bound LG Thrill 4G
, yet it seems like
the blueprints for its successor are already being drawn
. In an exclusive one-on-one briefing with
Pocket-Lint
, Dr Henry Noh of LG shed some light on the so-called
LG Optimus 3D 2
, which would not only be capable of shooting 3D content and displaying it on its glasses-free 3D display, but will likely stand out with a super slim waistline as well.
At least, that is how the LG Optimus 3D 2 is shaping up on a conceptual level. The handset is planned to boast a thickness of about 7 millimeters in order to grab the attention of consumers with both features and looks. Wise move, we'd say, as the LG Optimus 3D is not the prettiest smartphone on the market despite packing all that processing horsepower under its hood.
If everything goes as planned, the LG Optimus 3D 2 might be ready to hit the market at some point next year. However, it is probably simply too early to give any more specific time frames as the device appears to be at an early stage of its development. There were no technical specs outlined either, but we doubt that the smartphone would be any weaker in terms of performance compared to its current sibling, if it ever sees the light of day.