The LG G7 ThinQ has nearly doubled last year's LG G6 pre-order numbers in Korea
18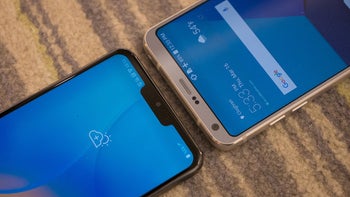 The LG G7 ThinQ appears to be selling much better than
last year's LG G6
. After a number of difficult quarters for the South Korean company's mobile unit, the initial reaction to LG's latest flagship could signal a slight turnaround for the brand. After all, according to a new report by ETNews, LG's newest smartphone has nearly doubled the pre-order numbers of last year's device.
In just four days since the new device went up for pre-order in LG's home country, the LG G7 ThinQ has managed to attract the attention of over 70,000 people, a huge boost over last year's figures. To be specific, the number represents an increase of 30,000 over the 40,000 units that were pre-ordered last year during the same time period. Nevertheless, these numbers are certainly not indicative of how popular the G7 ThinQ will be throughout the rest of the year. Once the pre-order period is over in South Korea, interest in the device could easily nosedive if LG doesn't market the device well enough. In addition, even if the device remains popular throughout the rest of the year in the market, it is unlikely to make a significant dent in LG' finances. In order to do this, the
LG G7 ThinQ
will have to prove itself to be a worthy contender in major markets such as the US and Europe, not just LG's home country of South Korea.
It will remain to be seen how
LG's latest flagship
performs on a global level when compared to last year's
LG G6
. But, if the company can market the device correctly, outperforming the G6 certainly isn't out of reach. After all, unlike its predecessor, the G7 ThinQ ships with the latest high-end processor and appears to be aiming for a broader range of customers with the inclusion of the display notch.