LG G3: the best alternatives
20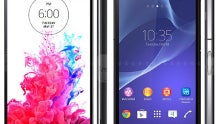 The
LG G3
has gone official, and with it the choice of the best smartphone for the season has become even harder. With every major manufacturer now having unique and spec'd-out handsets, it's becoming increasingly difficult to navigate through the maze of marketing terminology, plethora of different design concepts, and distinct user interfaces.
That is why we are listing the main competitors of the LG G3 below, so you can gauge what are you alternatives better, as all of these are already available for purchase, while the G3 launches tomorrow in its homeland, with the global rollout shortly after. At first brush, the G3 has no direct competition, as it is the only flagship from a major manufacturer that flaunts a Quad HD display, bringing the insane 1440x2560 pixels of resolution down to the smartphone realm. Unless you are using it to read hieroglyphs, or watch 2K movies on a regular basis, however, 1080p displays are a pretty good alternative, and that's what those in the list sport.
With all this in mind, it's time to sum up the best alternatives to the new LG G3, and it's up to you to decide which one to get. Take a look below, and let us know your thoughts on all these handsets, and how they compare to the G3.