LG G Pro 2's early benchmark results are here: Quadrant, AnTuTu, GFXBench and more
12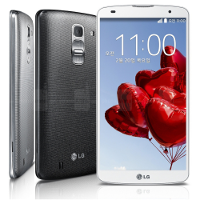 Apart from the
Samsung Galaxy S5
and the
Sony Xperia Z2
, another major device that we came across at MWC 2014 was the giant, 5.9-inch
LG G Pro 2
. We were quite enthralled with the phablet, despite it being firmly in hostile territory in terms of size. Regardless, we have some high expectations for LG's new toy, especially now that the larger form factor has established a foothold.
But for our high expectations to be met, the G Pro 2 will need to prove itself on more than one front. One particular area of paramount importance with consumers is, unsurprisingly, performance, which is why we made sure to arrange for a second date with LG's new phablet and prepared our on-site suite of benchmarking tools. Even before we reached LG's booth, we were feeling quite optimistic about the scores that we can expect from the G Pro 2, seeing as it is packing quite the hardware configuration. That time-tested quad-core Snapdragon 800 never disappointed in the past, and the whopping 3 gigs of RAM on board surely can't hurt.
And hurt it didn't. In fact, the entire process was absolutely pain-free, with the G Pro 2 showing no signs of strains whatsoever. The scores it achieved, while admirable already, should be taken with a note. It reads: this is non-final, pre-production unit, so keep that in mind. But enough talk, check the results right below.