Kytephone makes Android phones child-friendly
3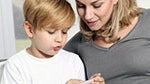 As smartphones become so ubiquitous that they become simply "
phones
" in our society, it also means that children of all ages will be accessing them more frequently. In fact common smartphone features like location sharing, navigation, and good old fashioned emergency calls make them ideal for teenagers or even younger kids to have, but that access can come at a cost. Parents worry that kids may spend all of their time playing games, or share information or images of themselves with unsavory individuals. Plus there's that whole "open web" thing that many parents would like to filter.
Kytephone wants to solve that problem for Android users. Their mobile app (also named "Kytephone") just made its public launch today, and it provides parents with a lot of leeway to tailor the Android UI to their kid-specific specifications. Parents can set up white lists of which phone numbers can be called and/or receive calls from, which apps can be accessed, and can keep tabs on the phone's location.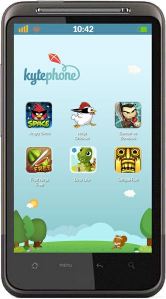 Once the app is configured and launched it cannot be turned off by enterprising offspring, even with a battery pull – this is one reason why Kytephone has no plans to make an iOS version of their app, as Apple doesn't expose the low-level API's necessary to pull this feat off. Kytephone CEO Renat Gataullin also pointed out that many Android phones are inexpensive (or free on contract), making them good choices for younger kids.
The app follows a freemium pricing model, where the basic controls are free, while some advanced controls (like limiting the amount of time game apps can be played) will require purchases. Many new features are planned – whitelisted websites are coming (right now it's an all or nothing proposition), as are location-based alarms so you can catch little Joey playing hookey, and a number of UI themes.
UI themes will be important for making the app practical for multiple ages; right now the default Kytephone UI is a bit whimsical – perfectly fine for a younger kid, but not the sort of thing your image-conscious preteen is going to want to rock in public. Future versions will allow for a greater variety of choices, as well as the choice to expose the default phone UI, while still only showing whitelisted apps and features.
If you're a parent in need of a product like this, check out the source link for more information.
source:
Kytephone
via
TechCrunch