Kylie Minogue helps Samsung launch the Galaxy Note 10.1 in the UK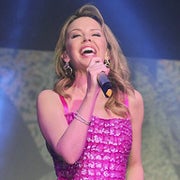 Samsung has thrown a glamorous party to complement the launch of its new
Galaxy Note 10.1
tablet in the important market of the UK. For the purpose, it has used a little help from pop star Kylie Minogue, a number of Olympic athletes and other VIPs.
The party has taken place in London's West End, where the guests have had the pleasure to experience Samsung's traditional hospitality.
Galaxy Note 10
.1s...
...Why did you have to leave those charger cables there, Samsung, why?! Aside from this "small" detail, we have to admit that Kylie has looked glamorous in that dress. OK, maybe it's just fun to look at... for a while.
But you know we just have to ask you now, Samsung fans - would you wear such a dress? That's mainly for the women out there, but hey, it's a free country, you know.
source:
Pocket-lint