Kobo Aura One gets officially unveiled: 7.8-inch high-definition display, $229 price tag
4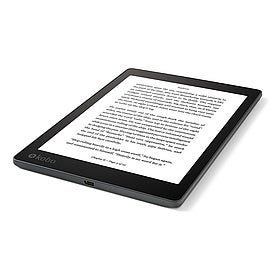 As previous leaks had indicated, the Kobo Aura One became official earlier today. The high-end waterproof e-reader will launch September 6th at a price of $229.

One of the main highlights of the Kobo Aura One is the display, which seems very appropriate given that the screen is by far the most important aspect of an e-reader. The screen of the Kobo Aura One is a 7.8-inch panel running at 300ppi.

If you're often reading into the late hours of the night, you'll be glad to learn that the Kobo Aura One allows users to modify the color temperature of the display, either manually or automatically depending on the time of day. This is essentially a blue light filter mode that's highly similar to Apple's Night Shift. The same detailed control is allowed over the display brightness.

If you're looking for a big e-reader with a high-resolution display, the Kobo Aura One seems to be your only option at the moment.

Despite carrying a large display, the dimensions are acceptable. The Kobo Aura One measures 6.9mm across the waist and tips the scale at 230 grams. Another nice inclusion is the One's water resistance. The Aura One is IPX8 certified water resistant, which means that it is guaranteed to survive dives in up to 2 meters of water.
The brain of the operation is a 1Ghz CPU paired with 512MB of RAM. Compared to modern smartphones, that's a lot less processing power. Compared to other e-readers, however, these are blazing fast specs that should have no trouble keeping up with the demands of the simplistic OS.

On the software side, the Aura One allows for easy access to the store (from where you can purchase or lend books) and to the library. Just like with the Amazon Kindle OS, the user can long press a word to look up its definition as well as select and annotate text.

What do you guys think of the Kobo Aura One? Will you consider it as an alternative to the pricier Amazon Kindle Oasis?