Klara for Android shows the weather forecast as simple and easy to read charts
2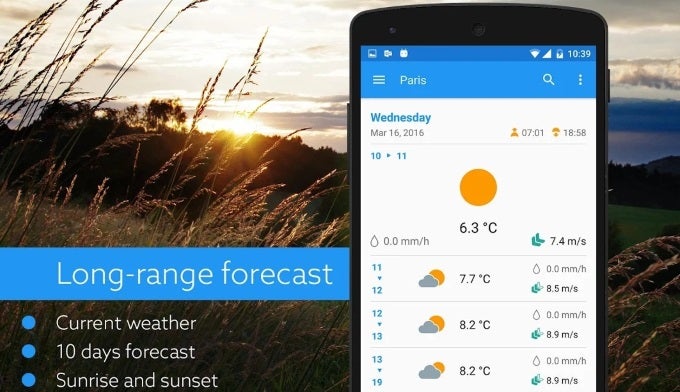 Most weather apps are either beautiful in all sorts of translucent, glowing, elaborately designed ways or stuffed full of tables, graphs and charts with minute details geared towards devoted weathermen. Klara for Android brings you the best of both worlds. It presents an up-to-date and informative weather forecast in the form of simple, but graphically pleasant charts that are rich with information, yet easy to comprehend. This makes it a great app for professionals that need the elaborate weather data and everyday users who want quick and reliable forecasts alike.


Klara is great both for getting quick weather forecasts and detailed information with a surplus of metrics.
Using Klara is a breeze, thanks to the orderly Material Design interface that's laid out logically, with buttons that have clear meanings. can give forecasts for any place and sources it's information from the Norwegian Meteorological Institute, showing detailed metrics like precipitation, temperature, cloud coverage, wind speed and direction, pressure, and humidity. The app is also able to generate short and long-term forecasts and lets you put together a list of your favorite locations. With this list, you can easily compare the weather in different places you like.




Moreover, Klara's interface can be personalized with four color skins, and a widget is at disposal in case you want to glace at information right from the home screen. The widget tells you the weather for a favorite place or your current location, and gives you the possibility to change charts. Other customization options in the app itself include pressure unit and time format settings to bring the app closer to home.

Klara is free and available exclusively on Android.