Kingston Wi-Drive treats your iOS device to a storage boost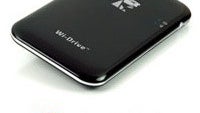 If you have ever been frustrated with your iOS device's limited storage capacity, here is the gadget that might help alleviate the pain. The
Kingston Wi-Drive is a portable wireless storage device
tailored to work specifically with iOS and is available in 16- and 32-gigabyte flavors.
Here is how the Wi-Drive works in a nutshell – you transfer your music, photos, videos, or whatever you wish on its built-in memory. After that, all your stored media will be accessible remotely via Wi-Fi and can be easily streamed to an iPhone, iPad, or an iPod touch. No router required! The Wi-Drive allows access from up to three devices simultaneously, which means that it can act as a tiny home media server, and since the device uses solid state chips instead of a clunky hard drive, data transfer speeds should be more than satisfactory.
The Kingston Wi-Drive costs $130 for its 16GB model and $175 for its 32GB variant so it is up to you to decide whether you would not be better off simply purchasing an iDevice with more built-in storage. However, if the ability to stream media to three gadgets at the same time sounds like something that might come in handy, you might want to check the Wi-Drive out. Feel free to watch the video below and see the device in action.
Recommended Stories