Key Lime Pie UI concept looks nice, but has few surprises
56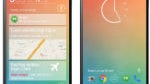 Android software concepts are a much harder business than iOS concepts. Apple is so careful about what features it adopts, there are a wealth of options for concept designers to play with like widgets, dynamic homescreens, etc. With Android, there are so many stock features, or features available through custom launchers and apps, that it makes it much more difficult to come up with compelling concept designs for the next version of Android Key Lime Pie.
A new concept render of Key Lime Pie by designer Jinesh Shah looks nice, but offers few surprising features that make us excited for the possibilities for Android 5.0. In general, the concept is fairly minimal. It adds some slight transparency on the notification bar and widgets (although transparent widgets are nothing really new, it's cool to see a slightly transparent Google Now widget.) It also adds overlapping widgets, like you could get currently in various custom launchers.
One interesting feature in the concept is the idea of widgets that can be hidden and surfaced with a gesture. The lockscreen also has a great new design that we would love. The lockscreen has a scrollable Google Now widget that includes notifications, so your Google Now stream is front and center. Some may find this to be a privacy issue, but we would love it. The lockscreen also has a quick button for voice search (something we desperately want), and the actual unlock mechanism is tucked away at the bottom.
The lockscreen looks a bit like a supercharged DashClock that is open at all times, instead of having to be pulled up by expanding the content box. And, that is an idea that we can definitely get behind. We've been searching in vain for a way to have more accessible info on the lockscreen and less of that silly unlock mechanism.
We'd love to see more concepts for Android though. Apple has had the market cornered on concept renders and that needs to change.