Judge in AT&T case vs. DOJ schedules September 21st settlement talks
6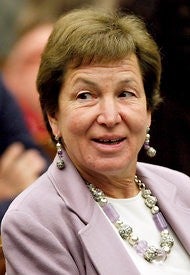 Judge Ellen Segal Huvelle
U.S. District Court Judge , presiding over the AT&T vs. Department of Justice case relating to the carrier's proposed purchase of T-Mobile, has asked all of the parties involved, which includes T-Mobile's German parent Deutsche Telekom, to present to her a plan for managing the case and a
schedule for the lawsuit by September 16th
.
On September 21st,
the judge has scheduled a settlement talk for the three parties involved
. Government officials have said late last month that there is room for negotiation and as we
reported
, AT&T has recently come forward with some ideas, including
spinning off a quarter of T-Mobile's assets
, in hopes that it can persuade the DOJ and the FCC to vote in favor of the deal.
source:
NYTimes
via
Phandroid