Judge Koh asks Apple and Samsung to each lower the number of claims for 2014 patent trial
22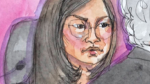 Apple and Samsung's second patent trial, "the thriller with manilla folders," is not scheduled to begin until late March of 2014. But already, Judge Lucy Koh has started to lay down some of the ground rules. In an order issued to both sides late Wednesday, the judge is requiring Apple and Samsung to limit the number of accused products to
10 for each side
. Apple has an alternate proposal on the table which would allow each side to accuse "representative products" and if any of these are found to infringe on a patent, similar products can be included.
Koh is limiting both sides invalidity arguments (arguments made why the other company's patents are invalid) to 15. If each side were to claim that the other infringed on 5 patents for example, that would allow both firms to give three reasons why each patent is invalid. Judge Koh has limited the trial to
12 days
which means that eventually we will see limits on the number of expert witnesses each side can present, and a limit on the amount of time that a witness can be questioned on the stand. This is nothing new as both sides faced similar limits during the first trial, which ended in
a jury awarding Apple a huge award
. Samsung is currently appealing the decision.
In December, Judge Koh will start making her summary judgment rulings which would leave either side with fewer patents to argue about. In a previous order, Koh ruled that for the summary judgment hearing each side would be limited to 10 claims from 5 patents. After the summary judgment rulings are made, starting on February 6th, each side would be limited to 5 claims for the actual trial.
source:
electronista