Jon Stewart interviews Walter Isaacson, Steve Jobs's biographer
7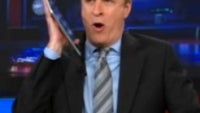 A couple of days ago the book
Steve Jobs, the only biography
based on 40 personal interviews with Jobs himself, hit the shelves and instantly became Amazon's top seller. But the author Walter Isaacson had a couple of insight thoughts to share with none other but the laughing consciousness of the nation, Jon Stewart of the Daily Show.
Isaacson speaks not only about the book, but also about his impression of Jobs. One thing the biographer focuses on about the iconic Apple CEO is his unique
"reality distortion field."
Has it influenced Isaacson? He, himself, says that Jobs didn't dictate how the book should be written or what should be included in it, but there's this feeling floating in the air that since the biographer was often so close to the Jobs family, he got to experience this first hand and this is somehow reflected in the book.
What also strikes us about the book, is the fact that it describes Jobs as an
extremely emotional person
. He'd often cry, or as Jon Stewart twists it: "he was a weeper!" It's probably that kind of deep psychological connection between the person and technology that makes Apple products always stand out in the crowd. Check out the whole interview below for the details and right below it another piece, this time by Colbert.
source: Daily Show, The Colbert Report