The Jet Black iPhone 7 has a problem with protective skins
47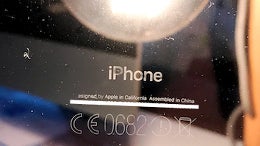 Apple's Jet Black iPhone 7 may look pretty, but you should seriously think twice before buying one.
Apple itself admitted
that the Jet Black variants of the
iPhone 7
and
iPhone 7 Plus
are prone to scratches, and
independent tests confirmed this
. As it turns out, that's not the only issue that Jet Black iPhones can have.
A small number of users have discovered that the text printed on the back of Jet Black iPhones - including "iPhone" and "Designed by Apple in California" - can be easily peeled off. More exactly, if you use a clear skin to protect the rear of the device, the text can be transfered to the skin once you remove it.
As you can see in the video below, someone installed, and then removed a Slickwraps Naked Wrap from his Jet Black iPhone 7 Plus, finding out that the text on the back of the device was no longer recognizable. The issue doesn't seem to be related to this particular Slickwraps skin, so it likely has to do with the way the text is embedded on Jet Black iPhones during the manufacturing process.
Apple didn't officially comment on this matter. If you own a Jet Black iPhone 7, let us know if you've had any issues with the text printed on its glossy rear.
sources:
MacRumors
,
MacRumors forum