Jaybird unveils their new X3 headphones with better Bluetooth connectivity and faster charging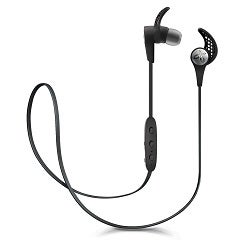 As more and more devices get the 3.5-millimeter headphone jack axed from them, the use of Bluetooth headphones seems like its going to become a lot more commonplace than it already is. There's already a great selection of options out there, but if you want the latest and greatest from one of the best wireless headphone makers around, you just might be interested in Jaybird's latest product - the X3.
The Jaybird X3 headphones are the successor to the company's X2 that carried on the legacy that the BlueBuds X first started. The X3 headphones feature a design very similar to the X2s, meaning that they're best-fitted for someone with an active lifestyle. The Jaybird X3 features an ever-so-slightly slimmer body than what was featured in the the X2, and the sweat-resistance means that they'll be perfectly equipped for long runs or exercise routines.
Just what does the X3 bring to the table though that makes it a worthy improvement over the already fantastic X2? There are a couple new additions, and the first has to do with Bluetooth. Jaybird says that they've "redesigned the Bluetooth antenna architecture from the ground up to ensure skip-free music outdoors." This means that the Bluetooth connectivity should prove to be stronger than ever, ensuring that any outdoor and indoor interference doesn't cause the connection to drop or falter. Also, Jaybird is promising that the X3 headphones will be able to last for 8 hours of use on a single charge and can get a full hour of use-time back after just 15 minutes of being plugged in.
The Jaybird X3 headphones are currently available from the company's official site in Blackout and Sparta color options for $129.99. However, if you're looking to save a bit of cash, Amazon is currently offering the
X2 headphones for $79.99
down from their normal list price of $149.99.