Javelin Browser for Android gets a big update
19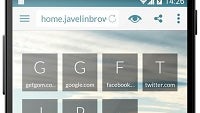 It was not too long ago we shared with you our review of the
10 best web browsers for Android
. Among the collection was Javelin, which found itself in the upper-middle-of-the-pack, but still a solid performer, and oh-so-easy on the eyes.
Javelin is also packed with features, not bad for a free app. An in-app purchase enables Javelin Pro, adding functions, including no limit on the number of tabs you can have open and the ability to find text on a page, among others. If you contribute more than the $2.99 buy-in, you can "gift" Javelin to a couple friends.
Just ahead of the expected official updates to Android L, and the new user experience called "Material Design," Javelin has just pushed a big update which gives the browser a whole new look and feel, plus a number of new features.
Javelin Sync has been added, which synchronize your bookmarks, recent tabs, and "speed-dial" (more on that) with your desktop Chrome browser (via desktop plug-in also). Password Manager has also been added.
Visually, Material Design is the biggest part of the update to Javelin, but it has been implemented at all levels of the interface. The tabs are visual and accessible by a single swipe on the right drawer. Settings and features are accessed via a swipe on the left drawer. The tabs follow the same language as the new "speed-dial," which is basically quick access to recently opened pages, which is incorporated into the default home page of the browser.
Javelin Stack, the ability to open a page and have the app "float" above an open app remains, as does reading mode, immersive mode (hidden status/navigation bars), and other features that make the Javelin Browser for Android an appealing option.
The indie developer behind Javelin, Steven Goh, believes this update puts his browser ahead of the others in terms of features and functionality. Javelin is a "mobile first" browser, something that differentiates itself from a lot of the other browsers out there, whose origins stem from the desktop. For the Chrome faithful, Goh issues these challenges: compare the number of taps to simply refresh a page in Chrome versus Javelin. Then, compare how many taps it takes to open or create a bookmark.
For an indie-dev shop, Javelin is an extremely polished product. Those that like to participate and provide feedback will find a highly active community of users, many of whom were part of beta run ahead of the latest update. Goh has his sights set high, noting that he believes this latest update will "leapfrog Javelin to be a better mobile browser than most, even Chrome." With goals like that, and a free download, Javelin is worth checking out. Click the source link get Javelin.
source:
Javelin Browser
(Google Play)