Japan-exclusive HTC J Butterfly is a less-stylish One M8 with a waterproofed body and a 13MP Duo Camera
18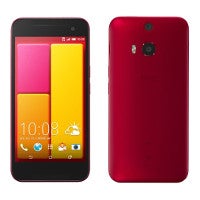 Japanese carrier KDDI has just announced that it will be carrying a new HTC flagship model, dubbed J Butterfly. The new device basically builds on top of the
One M8
, but there are a few key differences between the two, both good and bad.
Perhaps most importantly, the J Butterfly appears to have a plastic body, not aluminum. Keep in mind that this information isn't confirmed, however, at least at this point, so we could be mislead by the available renders. On the bright side, the new body is, in typical Japanese fashion, IPX7 rated, meaning that it's waterproof. What's even more, the handset packs a 13-megapixel "Duo effect" camera, which is basically the same thing as the config on the M8, save for the "UltraPixel" part.
The HTC J Butterfly is also set apart from the current generation of HTC devices in that it does not make use of the now signature BoomSound front speakers. Instead, while the J also sports two front-facing speakers, it seems like they're not of the BoomSound type, and honestly don't fit as well with the design of the handset. The rest of the specs include a 5-inch 1080p screen, a quad-core Snapdragon 801 chip, 2GB of RAM, a 5-megapixel front-facing selfie camera, and support for LTE-Advanced speeds of up to 150 MBits (downstream). Battery capacity sits at 2700 mAh.
The HTC J Butterfly is expected to hit the Japanese market in late August, though it's unlikely that it'll make it outside of the island country.