It'll cost you $40 to charge your iPhone 7 while using Lightning headphones
99+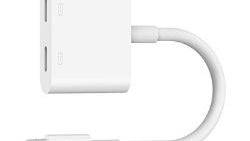 We all knew there would be complications around Apple's decision to remove the headphone jack on the iPhone 7 and 7 Plus. Aside from the need to use an adapter to get your old 3.5mm headphones connected to your new iPhone, there's also the issue that once you're using wired headphones you won't be able to charge your phone without yet another adapter.
The first option to let you do just that is coming from Belkin with the Lightning Audio + Charge RockStar. The dongle is fairly simple affair, like any splitter you might expect -- one Lightning plug that goes in your phone and two ports so you can plug in both headphones and your charger. Belkin claims it worked closely with Apple to develop the adapter, and it's expected that Apple could end up carrying the adapter in stores.
The adapter will let you do everything you might want, including charging your device as fast as it can, as well as supporting 48 kHz, 24-bit audio output, and remote controls and mic. But, the best part of all of it? It'll cost you $40 for the adapter. Yep, $40 just to have the ability to charge your phone and use wired headphones at the same time. That's
progress
, right?