Iris transparent tablet concept shows how AR, scanning could look in the future
9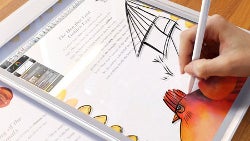 User-created concepts are an endless area to explore - but this here
Iris tablet concept with a transparent screen
and envisioned superior scanning and augmented reality capabilities looks more intriguing than others as the technology for it seems to be out there and the only thing lacking - just as with all other concepts - is implementation.
Craftily designed by Liu-Wei, Yao Kai-Chi, Hong Ruei-Hong and Cheng Ya-Fang, the Iris concept features a nifty
scanning sensor
which you can move along a page or an image to scan it. Now, just a couple of days ago, LG unveiled the LG LSM-100 scanning mouse which you can easily run over an image to scan, demonstrating a surreal idea turning real.
With an even bigger sensor than that of the mouse, the Iris concept could scan quicker, but that's not the only use - you can also fix the sensor at the center, which would allow two people to work on the tablet at the same time (think, games!).
Augmented reality
is also an option to explore, so feel free to check out the video below and let us know how close you thing this here is to reality!