Iris scanning the safest biometrics solution on phones, coming soon to midrangers
24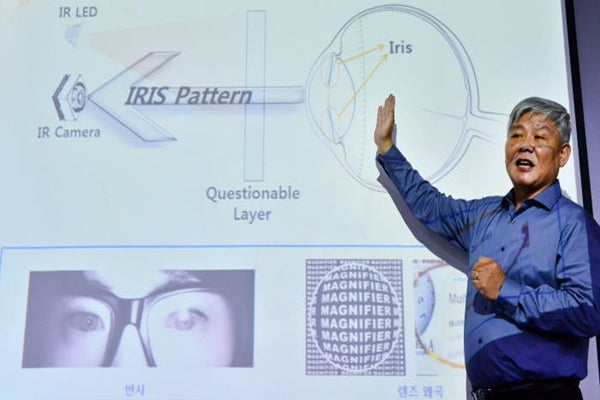 Samsung presentation on iris scanning biometric security
Leave it to the company that just unveiled an Android flagship with iris scanning authentication to try and explain how this is the safest personal ID method that can realistically be put in phones for now. Samsung has done a meeting yesterday, extolling the virtues of the iris scanner that it put in the
Galaxy Note 7
as the most secure identification method this side of actual DNA analysis.
Seriously, Samsung has thrown in that exact argument: "
Mucus and blood from inside a mouth need to be collected to obtain information about one's DNA
," according to Kim Hyeong-seok of Samsung Electronics' Wireless Business Department's Development Room. "
Because it takes more than an hour to analyze this information, it is realistically impossible to use DNA information on portable devices
."
Apparently, that is why the company chose to go the way of the iris scanner as an extra biometric identification method - there is one in a billion chance it will be the same on another person, and the pattern disappears right after death (oops, what about alien abduction). The scan is then scrambled and stored in the trusted zone of the ARM processor, from where it is matched each time you want to unlock your phone with your gaze, and not going to any servers, so it is as secure as iris or finger scanners get on phones.
Funny enough, just while Samsung equipped its Note 7 with a dedicated iris scanning camera and near-infrared LED emitter, that same setup has now been combined in one for the front-facing camera of future handsets by another Korean company, Dongwoon Anatech. They announced the development of a technology that incorporates a filter in the selfie snapper that can be actuated for near-IR light emission, then taken away when you need a photo. This combining of two modules will lower costs and free up space inside phones, so the company is "working on design with South Korean and foreign сmartphone camera module manufacturers" to equip even midrange models with iris scanning authentication.