Iridium GO! rugged Mi-Fi unit brings you internet anywhere in the world
3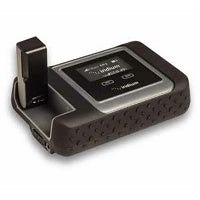 For some folks, being connected is an absolute necessity. No matter where you are, or what you are doing, being able to use your smartphone or tablet is part of your daily routine.
Going out for the evening? Bringing your smartphone is part of the deal. You need to be able to post selfies while at the bar or take pictures of your dinner to post on Instagram. What about for the more adventurous?
Now, going to the base camp at Mount Everest, or camping in the high-desert in eastern Oregon does not mean you need to give up the smartphone. Iridium, the satellite phone service provider (yes, they are still around), has a new evolution of product that allows you to just bring your own phone or computer on your trip, rather than spending $1,000+ on a bulky satellite phone.
Meet the Iridium GO!, a ruggedized Mi-Fi device that allows you to connect your iOS or Android device, make and receive calls, as well as handle data. Because GO! uses Iridium's low-earth-orbit satellite system, you can get connected pretty much anywhere on earth.
Satellite service of this nature is not fast, nor is it cheap. Iridium GO! will cost about $800 depending on the dealer you get it from. That also does not include the service which will run a monthly fee, plus usage. Expect to spend about $100+ per month (again, based on which dealer you work with). Data speeds are slow too (think dial-up speeds), so you will not be able to catch up on the latest episode of
The Walking Dead
while you are climbing that mountain.
For the outdoor types, there is another factor, weight. GO! weighs in at about 10 ounces and it is the size of a small brick at 4.5-inches by 3.24-inches and 1.25-inches thick. However, it will certainly prove to be a valuable tool for connecting multiple devices on one data link without having to use multiple sat-phones in remote areas.