Investors dump Apple shares, wanting a lower price for the Apple iPhone 5C
53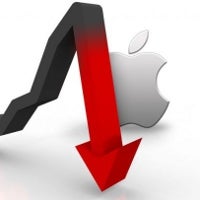 Investors, disappointed by the price that Apple put on the
Apple iPhone 5C
, took 2.3%, or $11.53 off the shares of the Cupertino based tech giant. Usually, traders dump a company's shares when they introduce a product priced too cheaply for the company to profit from. But in this case, Apple stockholders were hoping that the iPhone 5C would be priced low enough to compete with some low-end models, like the
Nokia Lumia 520
, that are eating Apple's lunch in emerging markets.
While originally, the Apple iPhone 5C was seen as a new budget model that would replace the free
Apple iPhone 4
in Apple's line up, the truth was that the iPhone 5C replaced the
Apple iPhone 5
and the
Apple iPhone 4S
slid into the budget slot. While the price of the Apple iPhone 5C on contract is $99, off contract it is $549 which hardly competes with the $150 off-contract price of the Nokia Lumia 520. Once Apple announced the off-contract price of its plastic iPhone 5C, sellers came into the market. If Apple was hoping that the new model would allow them to compete in India and Africa, they can put that to rest now, according to Wall Street analysts. "
While (the Apple iPhone 5C pricing) might not matter in North America and Europe, it matters in emerging markets, which is what everybody, including me, thought they were really going to be targeting aggressively
," said Wedge Partner analyst Brian Blair. "It just feels like they should have been more aggressive."
"Consumers in the upper reaches of the smartphone mid-market are increasingly looking to distinctive devices of their own, and are not happy to accept castoffs or dumbed-down versions of former flagships. Color variations and a clear design of its own is a good way to do this."
-Tony Cripps, principal device analyst, Ovum
Apple's shares peaked at $705 last September 21st, the day the Apple iPhone 5 launched. Since then, the Apple Maps debacle, fierce competition with Samsung, and worries that Apple was no longer innovative, have left their mark on the stock which closed Tuesday at $495. If the shares peaked when the Apple iPhone 5 was released, will this year's launch mark a bottom?
source:
Yahoo