Intel's x86 chip will power 6-8 Android devices this year
5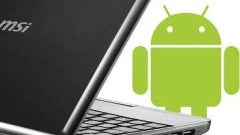 Notebook makers are claiming that
Intel
is planning on combining their x86 chipset with the Android operating system. Particularly as
Microsoft
has decided to use ARM platforms, Intel's cooperation is fitting, even though they have their own
MeeGo
OS.
Several Taiwan notebook makers, including Inventec and Compal Electronics, say that the Intel x86-powered Android devices could be announced as soon as April. That announcement would likely take place at the Intel Developer Forum in Beijing, April 12-13. If they can't be ready by then, they're expected at the Computex Taipei conference later in the year.
If Intel does in fact use Android with their processors, it could mean a tremendous cost-savings for the end user. Without licensing fees, those Taiwanese notebooks could offer competitive alternatives to Windows-based netbooks and other mobile OS tablets.
The sources propose that these new partnerships, which are a departure from the traditional Wintel (Windows + Intel) market, will improve the overall health of the PC ecosystem. Of course, in addition to an Intel/Android notebook, we're looking forward to more of their Intel/
Chrome OS
solutions expected around mid-2011.
source:
DigiTimes
via
SlashGear