Intel video claims its mobile chip is superior to ARM
24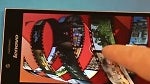 Using a Lenovo K900 to make its point, Intel comes out swinging and takes aim at ARM. Stating that "x86 is in business in Phones," Intel is staking a claim that it can outperform the ARM based chips from the competition.
While the video clearly shows some solid performance we do not get to see any benchmark results as a comparison. However, the Lenovo K900, which will only be available in Asia, looks like it is holding up rather well. Whether we will see this system-on-a-chip in any equipment anywhere in the west remains to be seen.
The video summarizes the notion that Intel would not be able to make it in mobile, only to respond with, "they were wrong." However, the contrast initially drawn was based on power consumption. What we look forward to seeing is how this evident performance sizes up to power efficiency and benchmarks against its rivals. Intel definitely knows how to make CPUs, of that we have no doubt. It is simply that the video does little more than whet our appetite to know more, and it also reminds us of some great hardware reserved only for Asia.
source:
CNET