Instinct's piecemeal upgrades start rolling out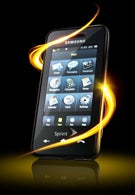 Instinct users may have noticed several applications prompting them to upgrade last week, marking a new approach to OTA updates. In the past firmware upgrades have fixed numerous bugs and enhanced services all in one big package, but this usually meant it would be several months or more between firmware releases. As the company did with the development of the Instinct, Sprint is taking a fresh approach to updating the device. Since many of the phone's applications are powered by different vendors, each company is updating its products on its own timetable, allowing developers to be more responsive with bug fixes and enhancements. We applaud this new approach to bring customers the best product available.
Late last month Sprint released a firmware upgrade that laid the groundwork for these piecemeal updates, and last week they began to roll out. Picture Mail, the web browser, Sprint TV and Radio, Sprint Navigation,Sprint Email, Sprint Music Store, Visual Voicemail and Mobile Sync have all received upgrades in the past few days, and there are more to come. Some vendors may choose to only have updates available at certain times, "for example, they may turn it on for one hour per day, updating 1/24th of the handsets in service per day." Users will automatically be notified of an upgrade when they launch the particular application. Hit the link for a rundown of what each update brings.
source:
Sprint