Infographic highlights why smartphone users should care about their privacy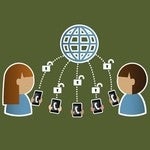 Privacy of smartphone users
has been kind of a
hot topic recently
. The more powerful our mobile devices become, the more things we do with them. And the more we do with them, the more personal data is collected by our devices over time. But what really happens with that personal information, and is it really okay to provide it to mobile applications?
Of course, this isn't a "yes" or "no" question. It is up to each and every user to decide what level of risk they will expose themselves to, and the security experts at Veracode are well aware of what kind of privacy threats currently exist. What's more is that they are presenting the results from their research in the form of a neat infographic titled "Can you mobile apps be trusted?", and we surely recommend checking out.
What do you, guys and girls, think about the whole mobile device privacy issue? Is it something that people are neglecting way too much, or is it just a load of hot air? Let us know by dropping a comment.