Infographic finds an easygoing way to tell us we're addicted to sleep-disturbing smartphones
6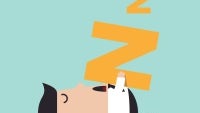 Bynow, it's very much common knowledge that the cold, blue glow emittedfrom your mobile device's screen is anything but a stimulate towardshealthy sleep. The information overload from browsing and consumingcontent hardly helps, either. There is such thing as over-eating oninformation, and frankly, our brains love it - but it comes at theexpense of sluggish performance when used to do anything else.
With 95% of electronics owners"screening" themselves to sleep with a device in hand,sleep impediment is practically a common problem, this infographicsuggests. It was put together by Britain's Big Brand Beds and is, byfar, the most easygoing way to illustrate how we're hopelesslyaddicted to our melatonin-suppressing, sleep-ruining mobile gadgets.Melato-what? You will learn about that, and other interesting bits ofinfo from the infographic. According to BBB's research, 95% of people18 to 29 years old sleep with their phone next to their bed, while anincredible 50% of them sleep in "standby" mode, ready towake up and reach for it if they are to get a notification in themiddle of the night.
Later on, the infographic suggests thatit's better to replace your smartphone or tablet with an e-readerbefore drifting off. Alas, while the e-ink display is extra-gentle toyour eyeballs compared to a full-blown 1080p IPS screen, it requireseither a built-in glow light or room lighting so you can see what'sgoing on, which kind of defeats the purpose. But we love oure-readers nevertheless.
Is your bed a smartphone/tablet-freezone, or do you put yourself to sleep with your favorite apps andwebsites?
via BigBrand Beds