Impossible Instant Lab makes a Polaroid out of your iPhone
7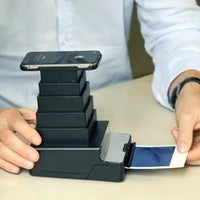 Here is a Kickstarter project that is crazy and cool at the same time. It is made for those who simply love the charm of analog cameras, yet are too accustomed to the convenience provided by digital photography. Suitably called the Impossible Instant Lab, the purpose of the contraption that you see is to create Polaroid photos out of the images that users take with their iPhone.
But how does the magic happen? Well, it isn't exactly rocket science. Using the dedicated Impossible app, the user selects the photo they want to develop and place the iPhone face down on top of the device. Then the shutter has to be open so that the image from the smartphone's screen can be projected onto the Polaroid film. And voila! An old-school photo instantly comes out and, as if by magic, develops before your eyes.
The Impossible Instant Lab has collected over 80% of the funding required, so chances are it will soon become available for purchase. It won't come cheap, though, as it will be priced at $300, or $2000 for those who want the gold-plated limited edition. Still, early birds can grab one via Kickstarter for "only" $189, so follow the source link below in case you are interested.