Humor: What IBM and Apple's deal really does to the rest of the industry
78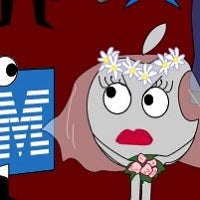 The deal struck
between IBM and Apple
is more than just about enterprise connectivity for iOS devices, IBM plans to develop a suite of applications optimized for the iPhone and iPad, leveraging IBM's cloud services which will serve as the iron in the glove for optimized mobile integration.
Moreover, IBM will sell iPhones and iPads to its customers with specific industrial applications installed and ready to deploy for the enterprise environment. That marks the first consumer level hardware sales IBM will be making since it sold its PC division to Lenovo.
As consumers, we do not always realize the benefits of such partnerships, but the reality is, for all the discounts and services that businesses seem to get, they typically generate a significantly higher-profit margin than us mere individuals. That is why companies will compete fiercely for corporate clients, and defend existing relationships with vigor.
In most cases from a business standpoint, iOS products gained a foothold because some executive started using the device and directed that he or she have the ability to do certain things in the corporate environment with it, with no consultation to the IT folks. Truth is, iPads are not the greatest at a lot of business functions.
This has been addressed in the industry with a variety of patchwork solutions involving HTML5 browser based "apps" that work "okay" but are nothing like a true dedicated application. IBM will apparently go beyond that solution and develop more robust solutions. The competition knows this, and that is why we suspect that good guys at The Joy of Tech are spot-on with this comic, right down to poor old BlackBerry being relegated to a wheelchair.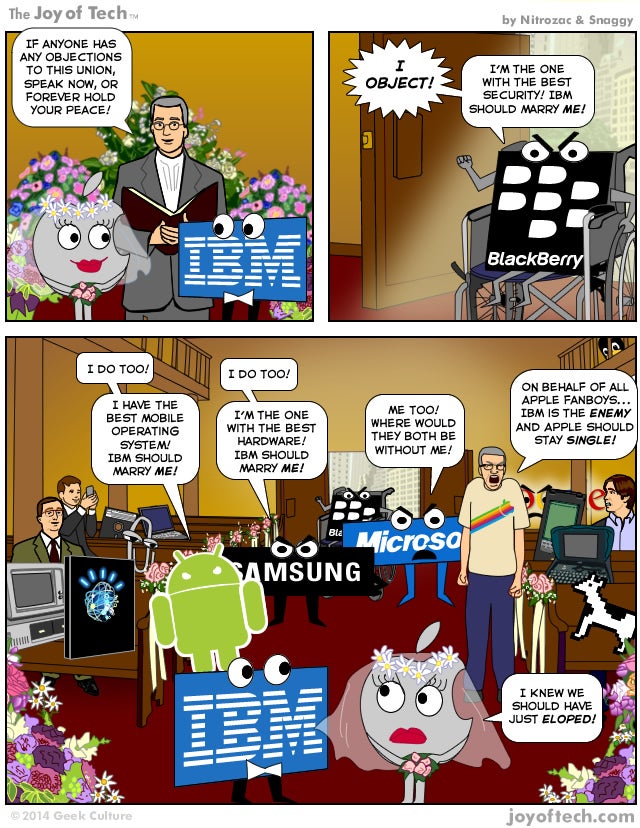 source:
The Joy of Tech