Humor: Seinfeld gives his thoughts on smartphones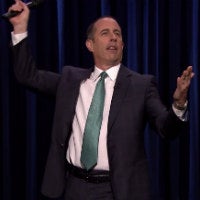 There are likely more original standup comedy bits about smartphone usage out there, but there is only one Jerry Seinfeld. Somehow, even though the content of what he's saying isn't all that new (we've all heard various jokes about the antisocial tendencies of smartphone users), Seinfeld found a way to make the bit work in his appearance on The Tonight Show from a couple nights ago.
Seinfeld talks about smartphones and texting before taking the topic a bit more broad by talking about email, which is really just a springboard to skewer the US Postal system. Seinfeld is firmly in the "it's funny because it's so true" territory, where he does his best work. Our favorite line from the act was when he talked about texting and said, "When we communicate with another person, we want them to know, 'I could have called you and I chose not to. I decided I only wanted to hear my half of the conversation.'"
Good stuff.