Humor: Google and Apple are really getting friendly now
11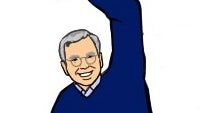 Last week, Google's Eric Schmidt was heard
talking about the relationship between Apple and his company
over the years during a media conference call. He noted that Google and Apple are involved in "constant business discussions" about all sorts of things.
Does that really mean that relations are warming up between the two companies? It is certainly possible now that Steve Jobs has passed as it was no secret that he was willing to go for broke to see Android fall. For better or worse, that play it probably not in the cards for Apple anymore.
While Google and Apple probably do have regular meetings about legitimate issues, one can imagine that such encounters can be somewhat tense. Cue in the fine talent that is Nitrozac & Snaggy at The Joy of Tech. They know how to capture the moment and really put things in perspective. It's all fun and games until someone loses and eye, and that's when the knives come out.
source:
The Joy of Tech