Huawei's new flagship codenamed 'Mulan' leaks out
22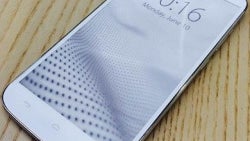 Huawei is planning a massive unveiling of its new flagship, a device codenamed 'Mulan', and expected to arrive on shelves as the Huawei Glory 6, or Honor 6, but images of the new phone have already leaked out.
The Huawei 'Mulan' is said to be a 5-inch device that features a sleek design and using capacitive buttons right below the display (no on-screen keys here). On the back, you can see the 13-megapixel main camera and right below, what looks like a fingerprint sensor. It's worth noting that we've seen earlier leaks showing a different design, so we're clearly still in a phase where the final design is up for debate.
The rest of the specs, however, have been repeated time and time again: a 5-inch 1080 x 1920-pixel Full HD display, an 8-core Kirin 920 processor clocked at 1.3GHz per core, 3GB of RAM, and a 13MP main camera, as well as a secondary 5MP one. Until the handset becomes offcial nothing is certain, of course, but the technical details seem likely to be true.
The Huawei Mulan is expected to make its official entry at an event in Beijing on June 24th. Here's to hoping we get to see this device in markets outside of China as well.
source:
Weibo
via
G4Games