Huawei's consumer business CEO thinks QHD displays are stupid, hints at making smartwatches better
35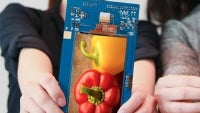 The many QHD display skeptics amongyou may have found their corporate messiah. That would be Huawei'sRichard Yu, CEO of the comms giant's consumer business, who elaboratedon the trend in an interview. "Your eyes totally cannot identifybetween Full-HD (1080p) and QHD (2560x1440) on a smartphone... so it'stotally nonsense."; "It's very bad for power consumptionand doesn't offer anything in return."; "I think it's astupid thing." are some of the CEO's honest, down to the pointthoughts on the matter.
Granted, the interview did happen onthe eve of the Huawei Ascend P7's launch in Paris, and Mr. Yupresumably had his share of fine Parisian wine at some strategicpoint of the evening, so let's not read too much into his musings.QHD displays are emerging for a reason, and if they weren't goodenough for consumer products as thoroughly evaluated as smartphones,they would have been withheld for another year or two. However, itmust be quite the hurdle to pull off a decent battery life with somany power-hungry pixels, which is why we're curious to see how theupcoming QHD LG G3 and the Oppo Find 7 will perform in this importantregard.
Mr. Yu also commented on quick-chargingtechnology. Reportedly, it "influences the life cycle of thebattery" in a way that makes the manufacturer not feel in a"hurry to implement quick charging on our devices".
The CEO also hinted at Huawei coming upwith more wearable technology, confirming that "we have someprojects which are ongoing" and "are looking to makewearables into something meaningful and make the experience muchbetter." The vendor already introduced a wrist-band of its own,the Huawei Talkband B1 which features an earpiece that lets the useranswer calls without fumbling around for the smartphone.
source: TechRadar