Huawei's Kirin 910 processor in the Ascend P7 goes through AnTuTu, delivers unsatisfactory results
7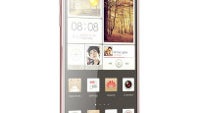 With phones like the
OnePlus One
and the
Vivo XShot
recently making a pass through the AnTuTu benchmarking suite and coming out with some mouth-watering scores, some may be disappointed to hear that the upcoming and oft-leaked Huawei Ascend P7 is going in the opposite direction. With a score of just under 25,000, the company's Kirin 910 quad-core processor in the P7 is, once again, behind the curve when it comes to flagship performance, which could easily hurt Huawei's sales.
On the bright side, this benchmark pass confirms the rest of the internals packed into the P7's attractive body -- a 1080x1920 pixel resolution display, 2GB of RAM, and a 13MP/8MP camera combo. The device in question also runs on Android 4.4.2 KitKat, though it should be noted that the kernel (version 3.0.8) is several years old, which could easily mean that further optimizations at launch will deliver a higher score. Otherwise, we should probably expect Qualcomm Snapdragon 600-equivalent performance. That's kind of disappointing if Huawei is looking to play off the P7 as its flagship, and yet we'll be giving Huawei the benefit of the doubt, as we wait and see the kind of pricing the Chinese manufacturer has in mind for the phone. This is especially important now that local rivals are offering top-of-the-line flagships with extremely attractive pricing.
Huawei is expected to debut the Ascend P7 on May 7th in Paris.