Huawei Mate 20 Pro vs Samsung Galaxy Note 9: first look
2
The Huawei Mate 20 Pro is finally official and yes, all the rumors were true: it's indeed a monster phone, the first Android handset with a next-generation 7nm chip, but also it's a very capable cameraphone, it has a giant battery and officially has the fastest charging ever put on a phone.
So, we thought we should compare it to one of Android's finest: Samsung's own champion, the Galaxy Note 9.
Join us as we compare the design, cameras, performance and battery in this clash of titans. It's time for our Huawei Mate 20 Pro vs Galaxy Note 9 shootout!
First, let's start with a quick overview of...
Huawei Mate 20 Pro vs Samsung Galaxy Note 9 SPECS
Specs
Huawei Mate 20 Pro
Samsung Galaxy Note 9
Short Description
Huawei's best; First Android phone with 7nm chip
Samsung's most powerful phone
Prices
from 1,000 euro (not sold in United States)
from $1,000
Colors
Black, Blue, Twilight, Green
Midnight Black, Ocean Blue, Lavender Purple
Platform
Android 9.0 Pie with EMUI 9.0
Android 8.1 Oreo with Samsung Experience 9.5
Screen
6.4" OLED with notch, Quad HD+ (1440 x 3120px)
6.4" Super AMOLED no notch, Quad HD+ (1440 x 2960px)
Chip
Kirin 980, First 7nm chip on Android
Snapdragon 845, 10nm chip
RAM
6GB / 8GB
6GB / 8GB
Storage
128GB / 256GB / 512GB with microSD
128GB / 512GB with microSD
Cameras
Rear: 40MP f/1.8 main shooter +
20MP f/2.4 ultra-wide 16mm +
8MP telephoto with OIS
Front: 24MP
Rear: 12MP f/1.5-f/2.4 main shooter +
12MP f/2.4 telephoto 2x zoom
Front: 8MP
Battery
4,200 mAh with 40-watt super fast charging
4,000 mAh
Extras
IP68, Fast wireless charging, 3D Face recognition
IP68, Fast wireless charging, Face & Iris recognition
Cameras
Excellent image quality on both, but the Note cannot match the ultra-wide angle camera on the Mate 20 Pro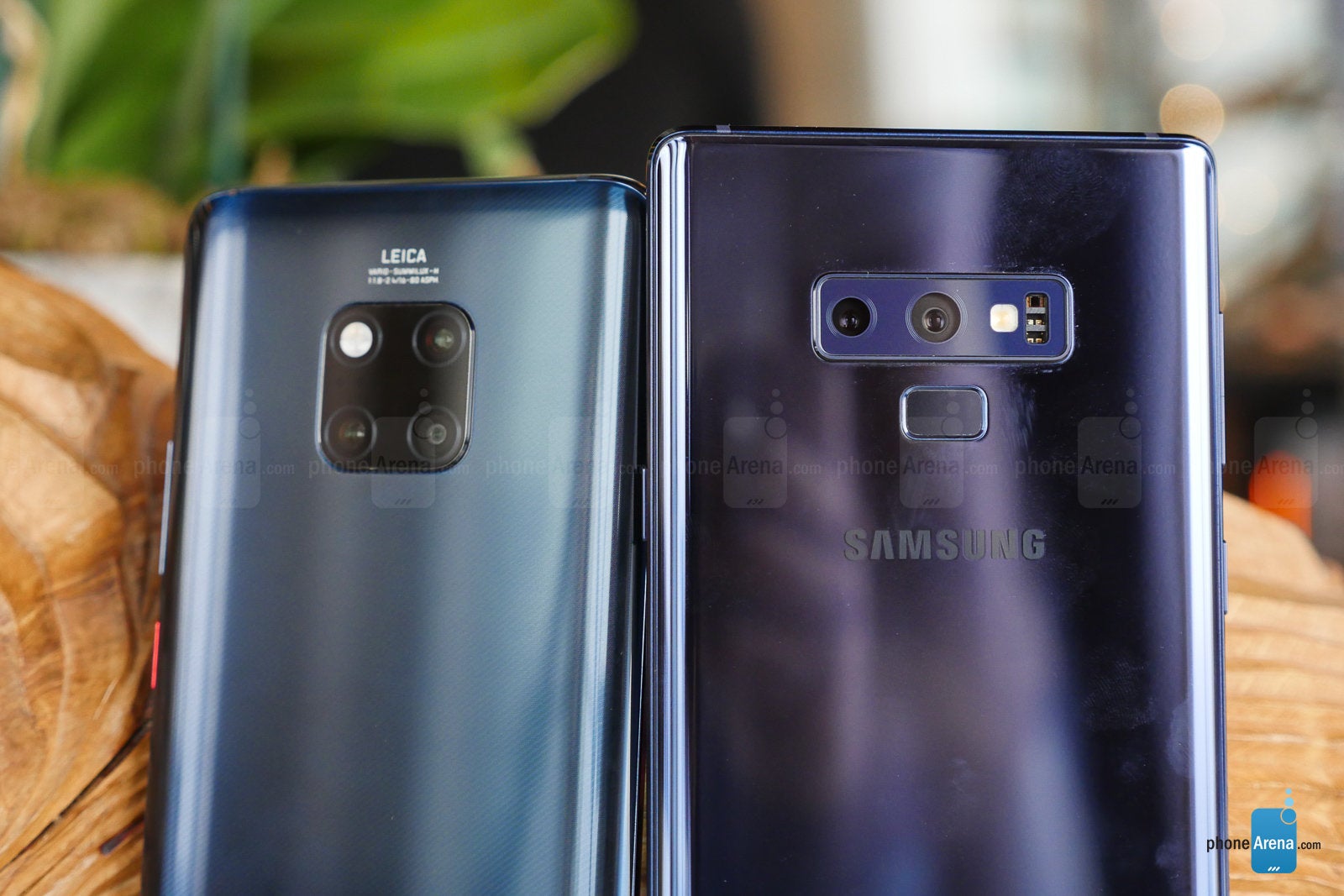 If you want a phone that you can easily recognize among many others, look no further than the Mate 20 Pro. With a big square camera array on the back, it's easy to tell it apart from all the rest: the Mate features three rear-facing cameras. The main shooter is a 40-megapixel one with an f/1.8 aperture, and then you have an 3x zoom 8MP telephoto lens, the only one that comes with optical image stabilization on board, and finally, a third, 20-megapixel ultra-wide angle camera is here to enable some spectacular landscape and macro shots. The Galaxy Note 9, on the other hand, has two cameras on the back, both 12-megapixel shooters, a regular one and a 2x zoom telephoto one, so it's missing the ultra-wide angle shooter.
Huawei is also outpacing the Note 9 with a faster and smarter AI built in the camera. AI has become this vast term, so let's be more specific: the faster chips inside the Mate 20 Pro allow it to recognize not just contours, but whole shapes and objects. For instance, in the camera app it can recognize a human skeleton and use this for cool tricks like emphasizing color for the people in a video, while leaving the background in black and white. AI is also used for real-time motion tracking, so the Mate can recognize your toddler in a video and keep it locked in focus. For video creators, the Huawei phone now also comes with native support for the cinematic, 21:9 format, and it features various color profiles that you can apply to your videos, much like LUTs in professional video editors. And of course, you have smart scene recognition, a feature that is now able to recognize some 1,500 different scenes. The Note 9 is missing all of those fancy features.
Performance
Double digit performance improvements with Android's first 7nm chip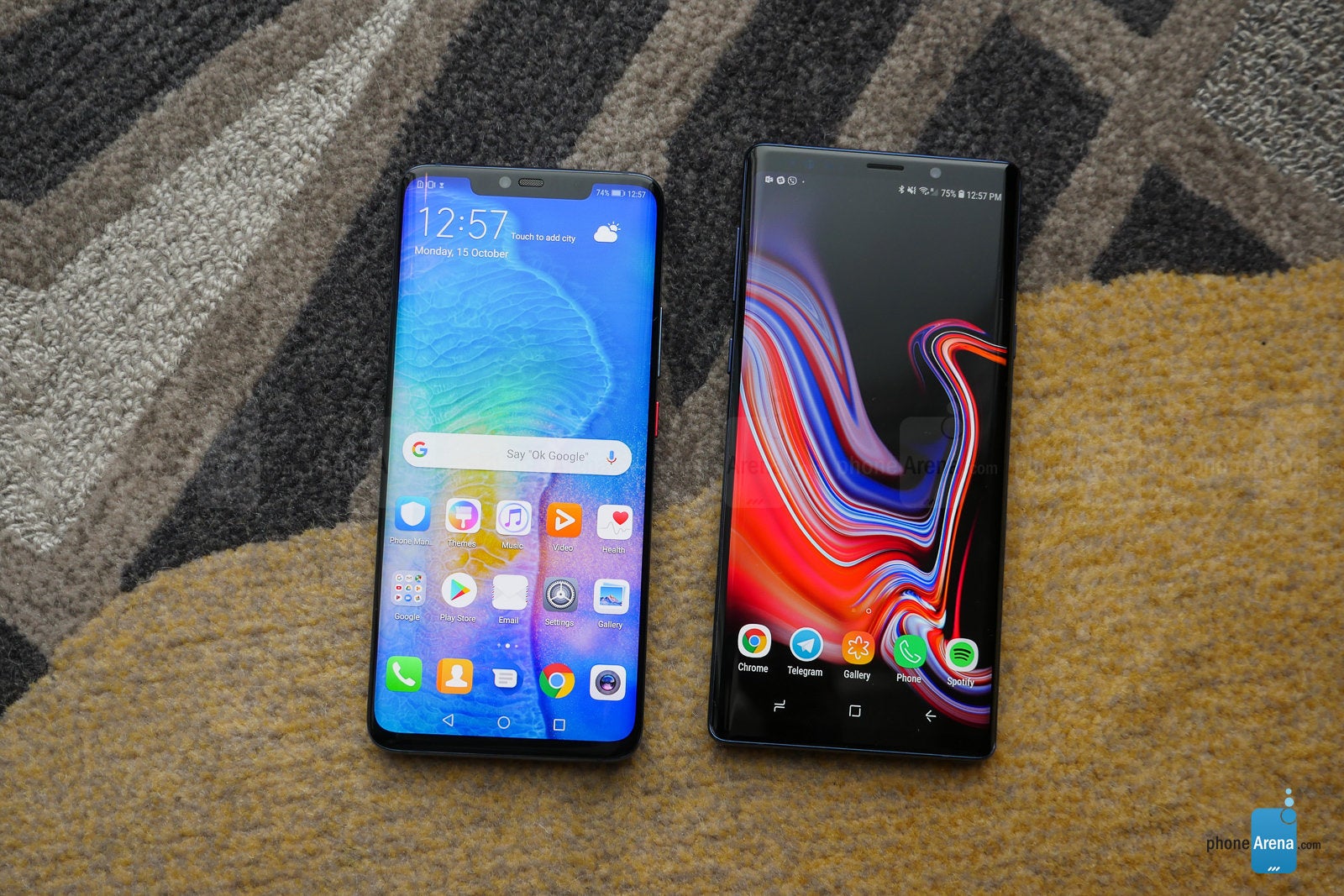 The Mate 20 Pro is the first Android phone to come with a next-generation, 7nm chip, the Kirin 980, while the Galaxy Note 9 has the Qualcomm Snapdragon 845 chip that uses the older, 10nm technology. What do those nanometers mean and why do they matter? Put simply, going to 7nm means further miniaturizing the size of every component on the chipset, so you can have more power in less space.
In practical terms, this means that apps load faster, they run smoother and the interface responds quicker to your every tap. We did not get to test this in detail just yet, but Huawei says that you will see a noticeable difference in the speed of launch for the most commonly used apps, including things like Chrome, YouTube and others.
There is one more important piece to the performance puzzle: the way performance changes with long-term use. Huawei has employed a number of measures to ensure your device stays fast even after years of use. Using simulation, the company claims that its Mate 20 Pro will age by just 5% in 18 months, while for the Note 9, the slowdown in performance after the same period of time would amount to 28%.
Interface & Security
3D face recognition and in-screen fingerprint scanner on Mate 20 Pro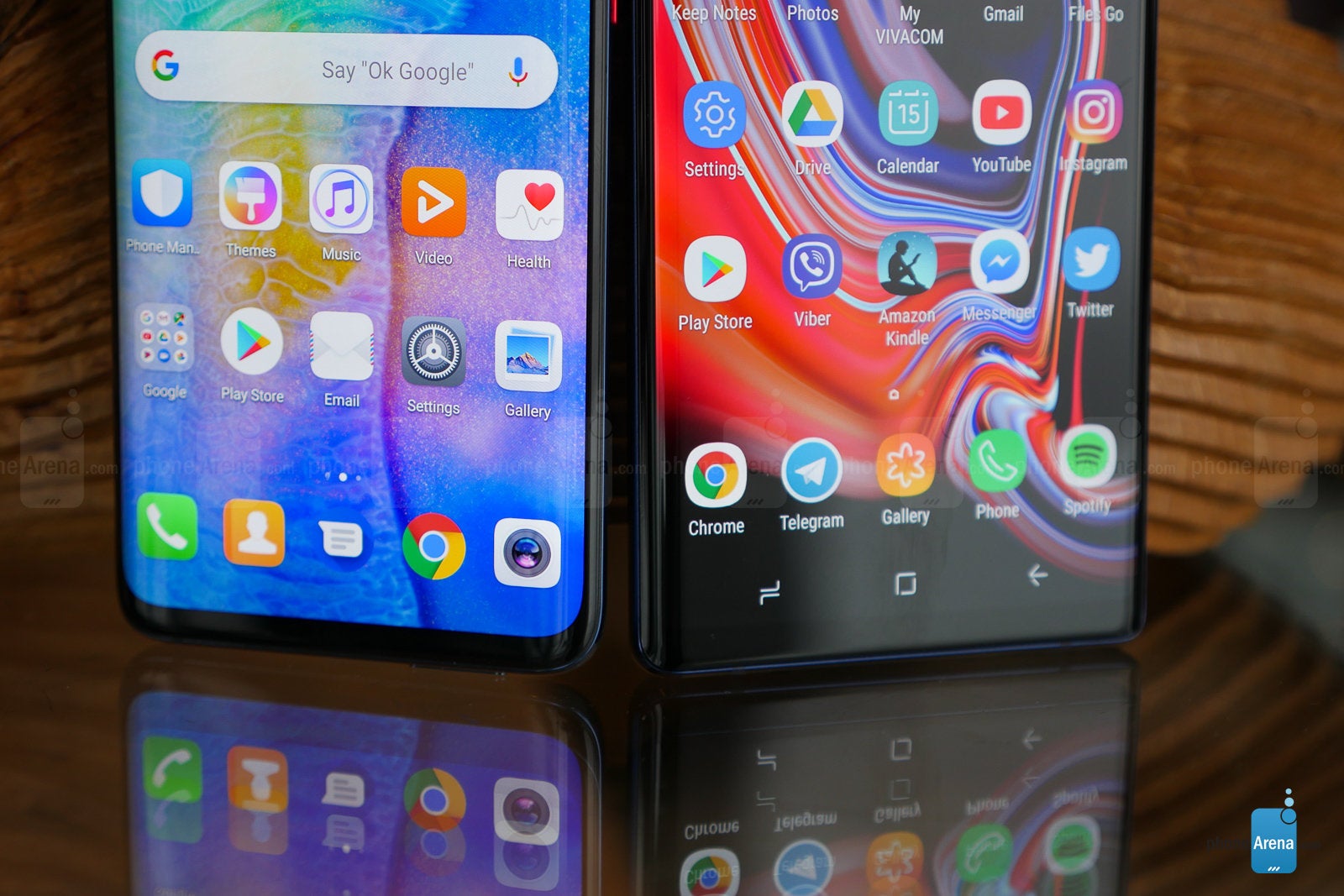 The Mate 20 Pro launches with what's probably the biggest overhaul of Huawei's custom interface: the new EMUI 9.0 running on top of Android 9 Pie. The Galaxy Note 9, on the other hand, runs on the older version of Google's platform, Android 8.1 Oreo, and it will be a few months until Samsung starts rolling out the update to Android Pie.
Until then, the Mate has the upper hand in terms of features: it has a brand new gesture navigation that users can choose over the traditional, three-button Android navigation, it has a dark mode for convenience and battery savings, it has a new layout with controls for apps located in the bottom for easier one handed operation and more. Samsung is also rumored to be working on similar functionality that's coming with an update, but the Mate is first in this game.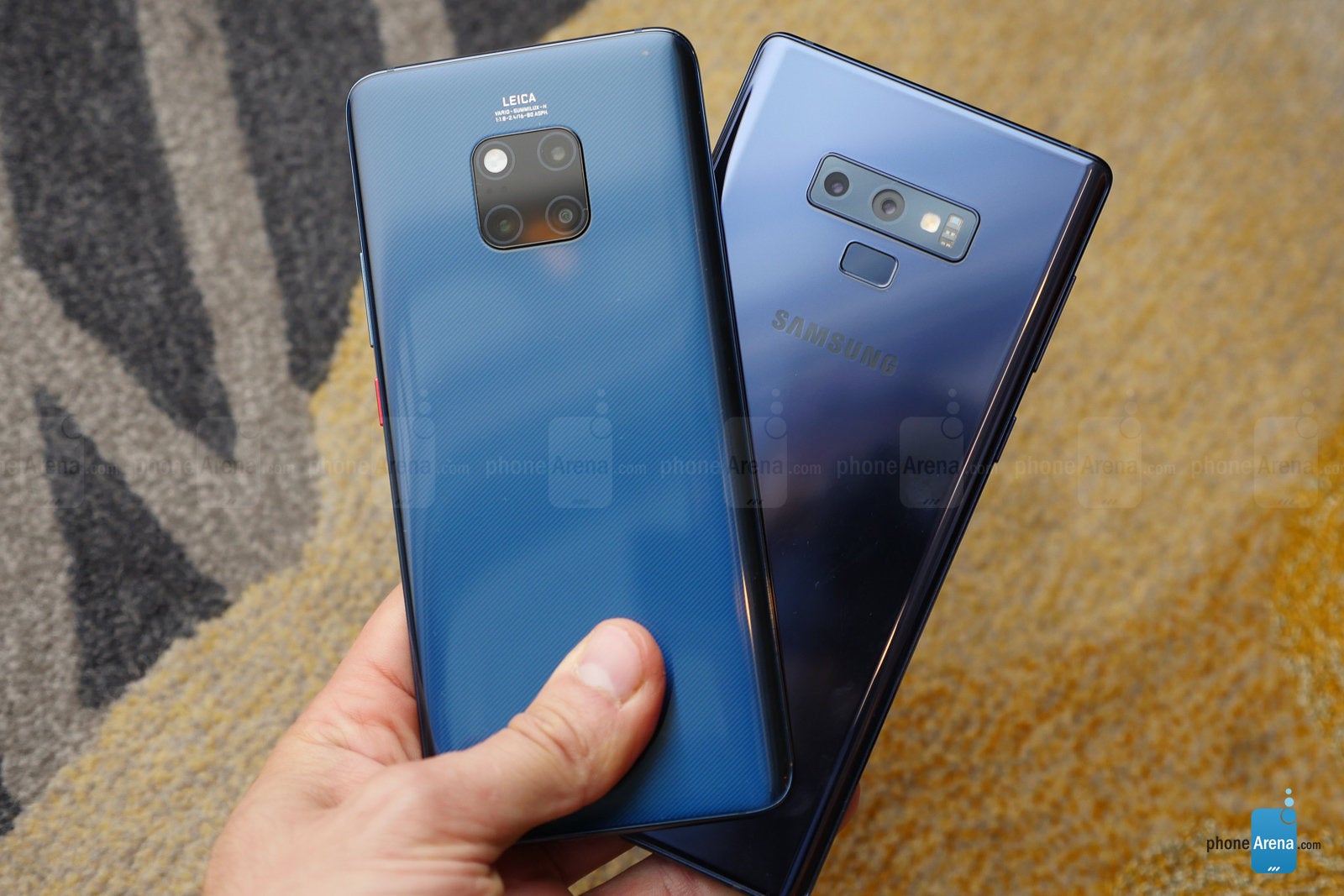 The Huawei phone also adopts innovative security features like a 3D face recognition system, similar to what you have on iPhones, while Samsung only provides basic face and iris recognition. The Mate uses a full iPhone-like array of sensors: a dot projector, a field illuminator, and an IR sensor to make a detailed 3D model of your face. We found it worked brilliantly and this quickly became our preferred method of unlocking the phone.
The Mate 20 Pro also features a fingerprint scanner built under the screen. We are not so enthusiastic about this particular feature: we can live with the long time that it takes to register your fingerprint, but we found it that it takes noticeably longer for the phone to unlock this way when compared to a traditional fingerprint scanner and you kind of have to hold your finger so that it's recognized rather than just quickly tapping the finger reader. In this regard, the fingerprint scanner on the back of the Note 9 was definitely the faster one.
Battery & Charging
Huawei's SuperCharge takes fast charging to a different level.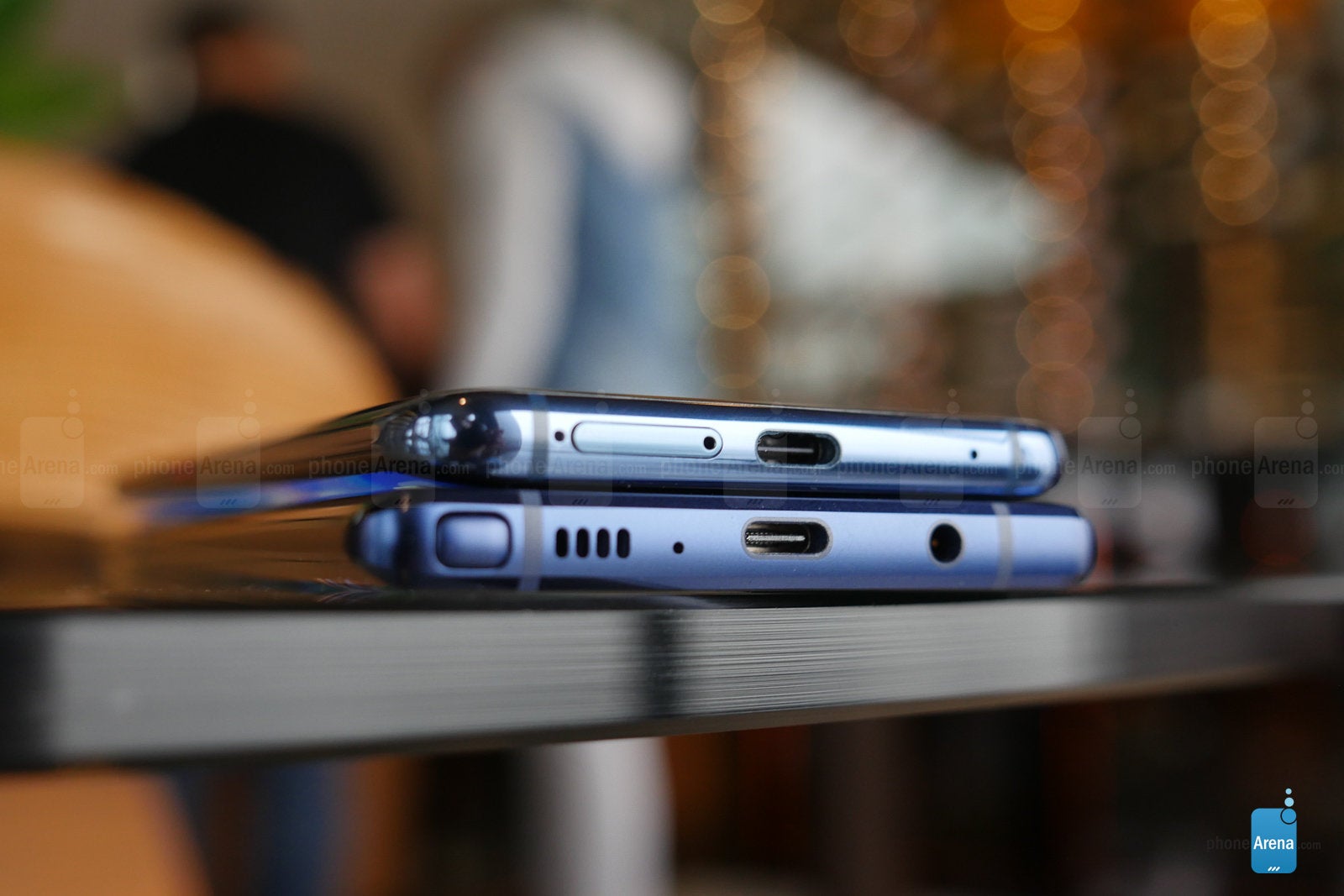 The Mate 20 Pro now has a larger battery than... pretty much any other phone out there. The cell inside it has 4,200mAh capacity, bigger than the already huge 4,000mAh battey on the Galaxy Note 9 and way bigger than most other phones.
What does this mean in terms of battery life? We don't know yet, but Huawei is so confident in the battery longevity of the new Mate 20 Pro that it now allows you to use your phone as a wireless charger. Yes, it's mostly for the show, but if a friend's phone is running out of battery and if it supports wireless charing, you can just place the two back to back and the other phone will charge up wirelessly using the charge from the Mate! There will be some limits (so that you don't end up actually killing your own battery while you charge another phone), but it's a rather cool trick.
While both the Mate and the Note support fast charging, Huawei really takes it to the next level with its SuperCharge wall charger that comes included in the box with the Mate 20 Pro and that charges it up at a rate of up to 40 watts. Samsung, on the other hand, uses its own technology called Adaptive Fast Charge that works at speeds of up to 25 watts. Both phones also support wireless charging, but the Mate 20 Pro supports faster, 15-watt speeds, while the Note 9 charges at a rate of up to 10 watts. For both phones, you would need to separately purchase a wireless charger, as those do not come included in the retail box.
Price, Release Date and Final Words
Big phones, big prices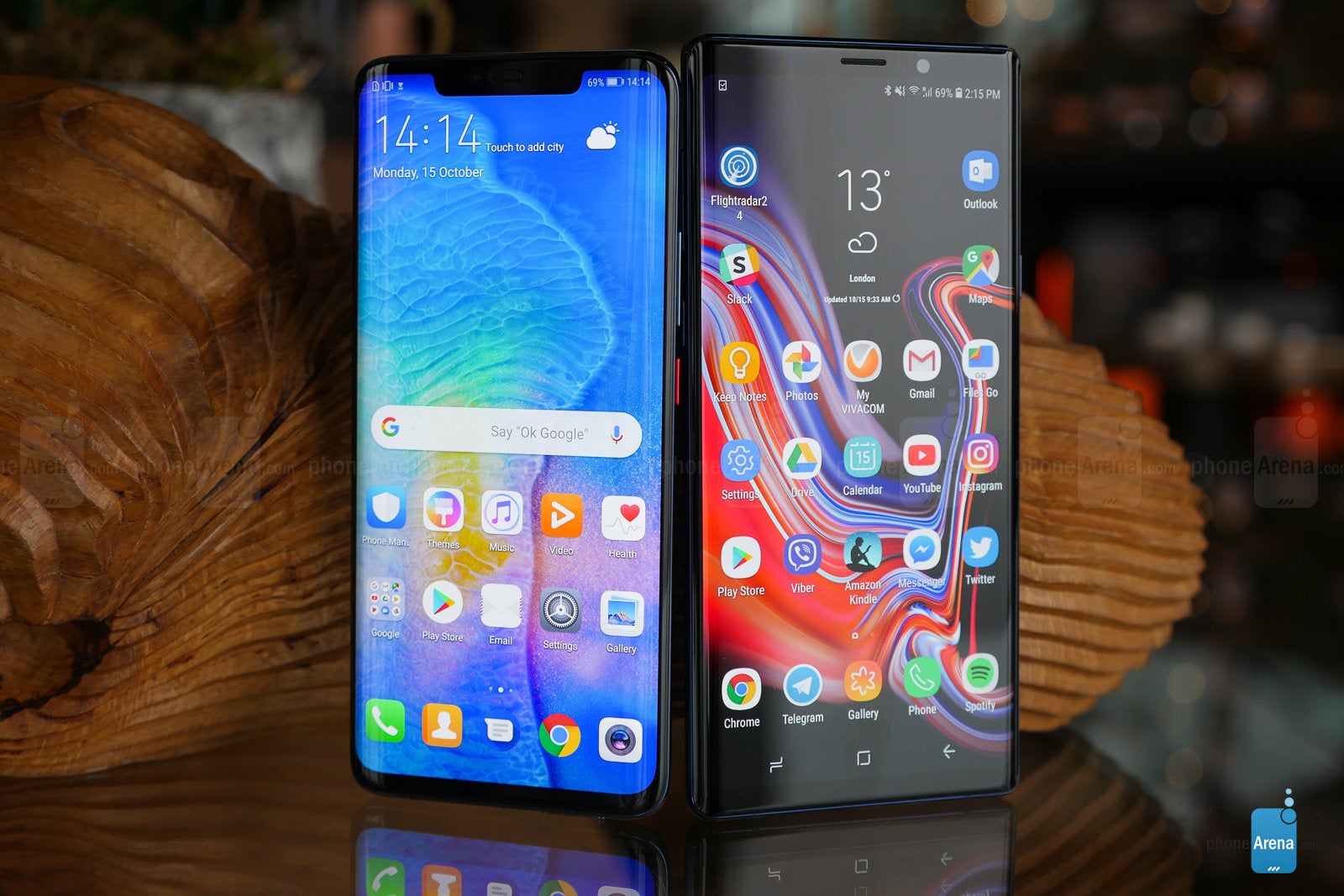 2018 brought us good in the form of exciting new technology and it brought us bad in the shape of all those new gadgets coming at much higher prices than before. The Mate 20 Pro and the Galaxy Note 9 are part of that new trend, both sporting prices starting at $1,000 and going up from there. What is interesting, though, is that the Mate 20 Pro actually costs more than the Galaxy Note 9 at launch! This is striking because just a few years ago, Huawei was the up and coming phone maker that would undercut others on price and now, the company is confidently pricing its phones higher.
Unfortunately for Huawei, its phones are not approved for sale in the United States, and the Mate 20 Pro will be available all across the globe except for the US.
When it comes to the Mate 20 Pro release date, it's coming to customers on October 16th, while the Note 9 is already available in stores.
So... which one do you prefer?