How to sync multiple smartphone speakers and create an ad-hoc sound system
7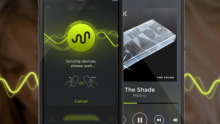 While you're never going to impress an audiophile with the sound quality of a smartphone speaker, or even that of a portable speaker, most people want to get the best sound experience with the little that they have. In this tutorial, we're going to take a look at a neat little app that lets you synchronize multiple smartphones, tablets, and wireless speakers into an ad-hoc sound system.
The app in question is called AmpMe, is available in both the Apple App Store and the Google Play Store, and it's currently the best way to sync multiple smartphones and have them play back the same song. However, before we dive into how the app works and what should be done to maximize the audio experience, it's worth mentioning that Samsung was among the first companies to explore with this functionality on a smartphone.
Cross-Platform Group Play

When Samsung launched the Galaxy S4 back in 2013, Group Play was one of the countless features that TouchWiz brought on top of the standard Android version. The app allowed Samsung Galaxy S4 owners to synchronize their smartphones, turning multiple handsets into a sort of distributed sound system.




Like many of Samsung's proprietary features, Group Play was often regarded as a gimmick, and not a true advancement, especially since the usage was limited to Galaxy S4 phones. However, now that all Android and iOS smartphones can tap into this functionality at will, and not through a preinstalled app, it looks like the public perception has changed.



Using AmpMe to sync multiple smartphone speakers