How to make Android automatically create calendar events from your incoming SMS messages
4
Want to enjoy the ability to convert data from your incoming text messages into calendar events on the fly? Why wouldn't you - it's terrifically easy to get it on your Android smartphone. You'll have to pick up an app and get around some not terribly frustrating caveats, which we'll explain shortly.
First things first, pick up the Inviter (SMS to Calendar) app
from the Google Play store
. The app is free because it's in a beta testing stage, but after the test period ends, it will switch to a yearly subscription-based pricing model. With that in mind, use the opportunity to try out the app while it's available.
Okay? Install Inviter and launch it. You might get prompted to answer "Yes" or "No" on whether you want automatic SMS to calendar functionality. Tap "No", for now, and head to the Settings menu. Consider activating the "Add events manually" option, which will ensure that not all dates-containing texts will end up as obscure calendar entries.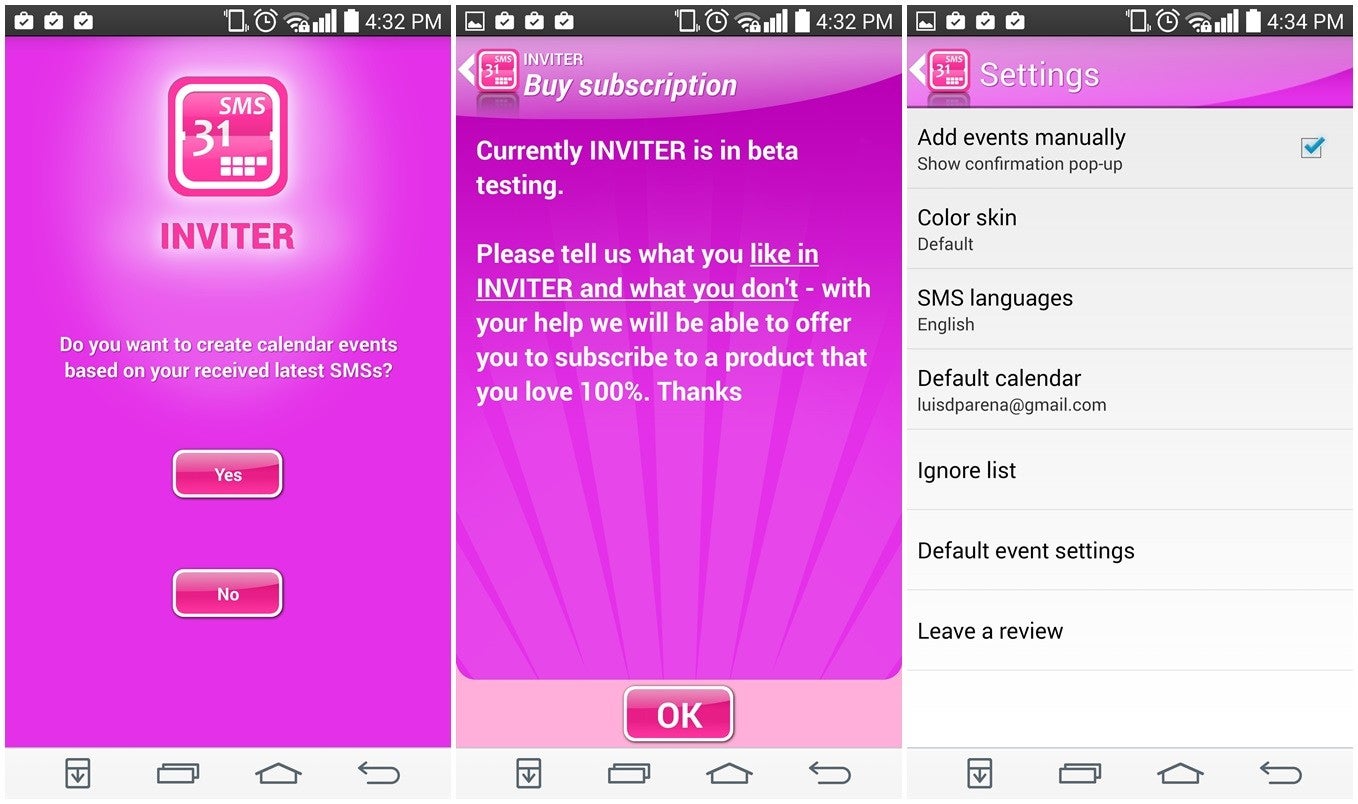 As you can see, Inviter syncs with 3rd party calendars, such as the Google Calendar, or Holiday Calendar. You can change that from the Default calendar menu entry. Oh, and don't forget to change the Color skin to something more palatable than the default flamboyant pink - although it comes down to personal preference, of course.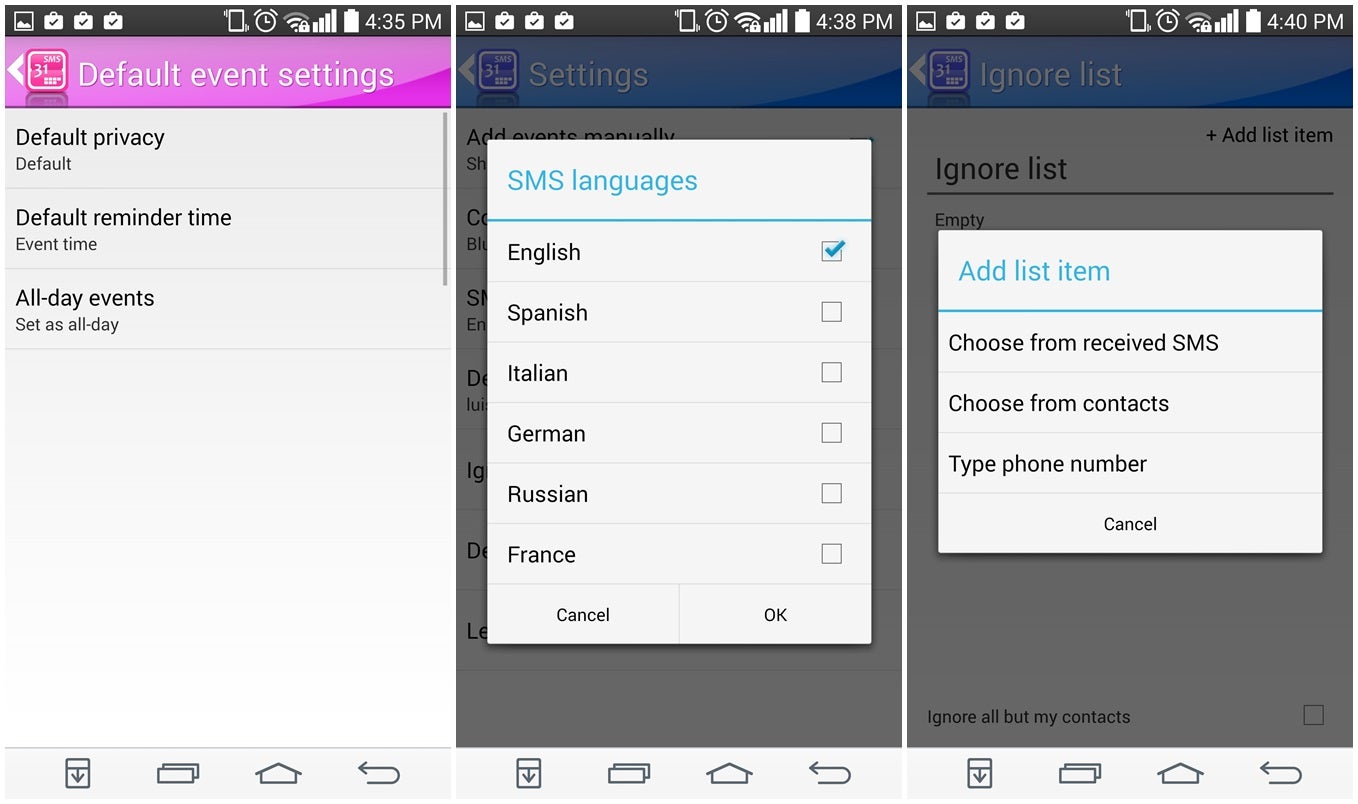 Inviter recognizes SMS messages in English, Spanish, Italian, German, Russian, and French. You can enable or disable the different languages from the SMS languages menu entry. Vive le France!
Finally, the ignore list lets you weed out entries from a particular message or phone number. Nothing out of the ordinary here!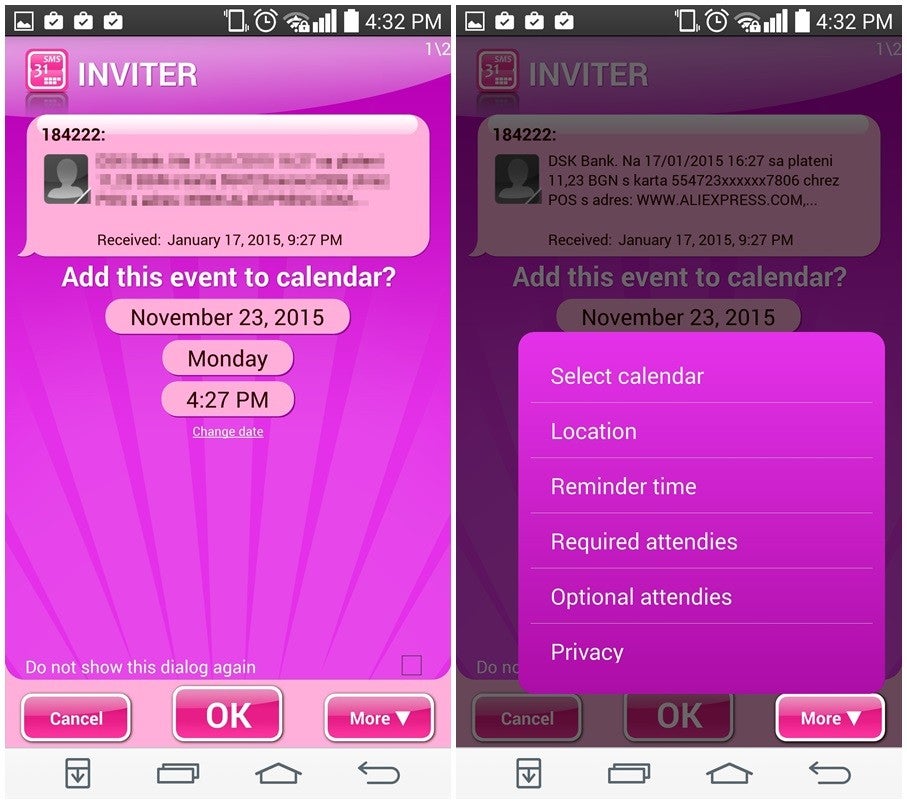 Okay, you are all set up! Incoming messages will begin prompting you to add their content as calendar entries. That's up to you, of course! If you tap the More option, you will find calendar selection, location setting, reminder timers, required and optional attendees, and privacy settings - everything you need to plan a self-respecting event!
So, there you have it - near flawless, if slightly trigger-happy SMS to calendar conversion. We take it it's only a matter of time before Google build a native implementation of the feature in Android.