How to find awesome Android wallpapers without resorting to dedicated wallpaper apps
9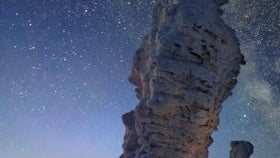 Whenever you want to change your Android smartphone's wallpaper, you can go to Google Play, search for "wallpaper", and you'll find tons of dedicated apps to help you. There are also
many live wallpaper apps
that can automatically change your wallpaper daily, or even hourly. But, if you're not into live wallpapers (these can drain you battery quite fast), and you don't want wallpapers that many other people are (probably) also using, you can go on a hunt for fresh wallpapers yourself.
Two of the best websites to find great wallpapers are Flickr and DeviantArt. You can use their search boxes to find images that interest you: landscapes, sunsets, snow, cats, fruits, waves - whatever your heart desires. Most of the time, you will find plenty of awesome images that can be used as wallpapers. It's easier and faster to browse these websites on your computer, download the images you like, edit them if you wish, and only then transfer them to your smartphone. But, of course, you can also do this directly on your handset. Both Flickr and DeviantArt have dedicated apps that are available in Google Play, though we found them a bit buggy.
Other websites that are definitely worth checking out are NASA's Hubblesite and Astronomy Picture of the Day. Both feature a lot of astronomy-related images - many of them don't make great wallpapers, but you can certainly find stunning images that do.
Obviously, the four resources that we told you about are just some examples, but any similar websites that you may discover can be used as wallpaper sources. An important thing to remember: don't be disrespectful to other people's work, and download images only for personal use. Or, if you really like someone's work, buy it (if this option is available).
references:
Flickr
,
DeviantArt
,
Hubblesite
,
Astronomy Picture of the Day