How do you see Google's acquisition of Motorola Mobility: poll results
6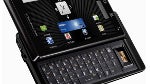 In the beginning of the week we asked you what you think of
Google's acquisition of Motorola
, and now the results are in. So, how do the majority of users see the deal? Will it have a positive effect on Android, or rather - be the cause for its decline? Let's check out how the voting went!
As it seems, most of you - the overwhelming 60.15% - consider this as a great move by Google, which will absolutely help Android in its further development, be it for the acquired patents or something else. The distant second though, made up of 23.43% of all voters, doesn't really see a point in this, beyond its presumed effect on the patent war that's being waged at full force recently. We'll tell you one thing - if this will indeed put a reasonable end to these countless lawsuits, we're totally in for it!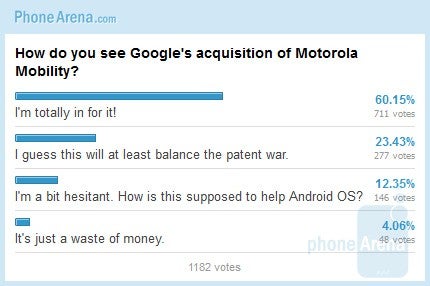 Those who aren't really sure of how this acquisition may help Android come in at just 12.35%, and a tiny piece of the pie - only 4.06% sees this as a pure waste of money. Okay, so it's obvious that most of you are having your hopes pretty high for the outcome of this deal. Let's just hope this isn't happening for Moto's patent portfolio alone. We, personally, would love to see some real products come out of these companies' joint efforts, but it's still far too early, we guess.