Hotel gives guests gold plated Apple iPad to use during stay
69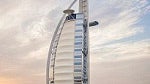 Ahh, the Good Life. If only you had held on to those thousand shares of Apple that you bought during the John Sculley years, you too could be hobnobbing with CEOs, NBA stars, movie stars and the winner of last week's Powerball lottery. When you have money to burn, you find yourself taking vacations to such places as Burj-Al-Arab hotel in Dubai. Known as one of the most
expensive hotels
on earth, the Burj-Al-Arab resembles a wind-blown sail and looks nothing like the Holiday Inn Express you stayed in last night.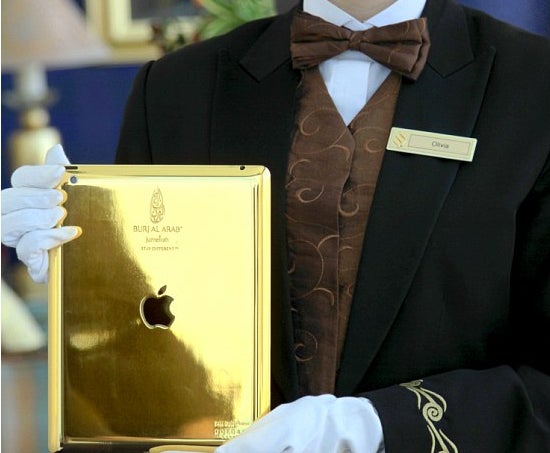 The Good Life
Money practically oozes out of the pores of the place. When you check in, you are even handed a
24K gold plated
16GB
third-generation Apple iPad
so that you can enjoy virtual concierge-like experience at the self-rated seven star hotel. The tablet provides guests with information about the restaurants and events at the Burj-Al-Arab as well as the regular service provided by the place. Guests are not able to access regular iPad features because of the special software used, so you should still bring your own tablet if you plan on staying.
By the way, the gold plated iPad is not like the robe, towels and soap. You cannot just shove it into your suitcase and take it home. From what we can see about the iPad, it comes engraved with the hotel logo (which contrary to rumors is NOT the Monopoly man) along with the Apple logo in black. If you need to take one home, the hotel boutique offers a gold plated 64GB
third-generation Apple iPad
for $10,200 along with gold plated versions of the
Apple iPad mini
,
Apple iPhone 5
and
BlackBerry Q10
.
Before you start pulling out your charge card to make a reservation, we should tell you that suites at the hotel start at
$15,100
a night. Too pricey? Regular rooms are priced at $1525 daily.
source:
BornRich
via
Gizmodo
Recommended Stories