Hillary Clinton responds to "Texts From Hillary" Tumblr with her own submission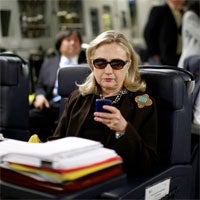 Texting is one of the most common forms of communication in America today – even the most famous and powerful people use it as part of their everyday repertoire, but did you ever wonder what their texts entail?
When two publicists, Stacy Lambe and Adam Smith, went out for a drink one night, they joked about the text messages Secretary of State Hillary Clinton might send. Using a photo of the former senator and first lady texting aboard a C-17 on her way to Tripoli, they created a Tumblr that contained a series of humorous photos depicting the Secretary of State's text message exchange with various celebrities and famous faces ranging from Mark Zuckerberg to Barack Obama.
The site caught fire on the Internet – to the point that Hillary Clinton herself got wind of it. Apparently, she found it hilarious and wanted to meet the creators and submit her own.
Lambe and Smith said they thought the submission from Clinton was fake, but after determining its authenticity and being invited to meet Hillary Clinton, they published her photo and headed over to the State Department to talk to her in person.
"It was great, it was a lot of fun," Lambe said. "You could tell that she had actually seen the site and had genuine appreciation for it and thought it was really funny."
When asked what her favorite post was, Clinton mentioned being a fan of the Ryan Gosling post. She also signed a copy of her own submission that read,
Adam –

Thanks for the many LOLZ

Hillary
"Hillz"
Unfortunately the two creators feel that they will never be able to top a submission from Clinton herself, so they have decided to not add any additional posts to their Tumblr. The good new is they will keep it active so everyone can enjoy the "LOLZ".
source:
Texts from Hillary
via
NYDailyNews