Here's what a photographer with an iPhone can do
38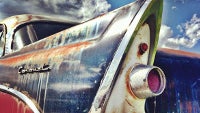 In case you haven't heard, smartphones are one of the most commonly cited reasons for the near extinction of point-and-shoot cameras. Why? Because your phone is always in your pocket, and a dedicated camera is not.
But that's not the only reason smartphones have largely replaced point-and-shoots – the quality of snaps has also gone way up. So much so that a modern flagship smartphone is more than sufficient for the casual photographers among us, and let's be fair – that's most of us. That doesn't mean, however, that professionals don't also call upon their iPhones or Note 4's in times of need.
One such photographer – Ryan Mcguire – is no stranger to using his iPhone to photograph whatever his whimsical mind is set to. The images are obviously post-processed to varying degrees, but they're still snapped with an otherwise tiny smartphone camera that most of us have trouble snapping anything decent with. That's not at all the case with Mr. Mcguire's shots, which you can view right below. Unfortunately, we can't be sure which exact model of the iPhone was used to take these, but we imagine it's an iPhone 5 or above.
Not bad for a tiny sensor slapped on a tiny phone, right?