Here's the (almost) full list of 200 new features on iOS 6
54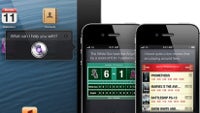 Apple's iOS 6 has 200 new features. Big improvement and small tweaks, but that number, 200, alone is telling. Now, iMore has compiled all the tiny details it could pick up from Apple's presentation and brings a huge list of over 150 features, nicely broken down in categories below.
Of course, the biggest improvements in iOS 6 come in Siri as Apple itelf said, but we wouldn't overlook the Facebook integration and improved phone and mail functions. Well, we don't want to spoil the fun, so check them all out below.
The new version of iOS runs on iPhones later than the iPhone 3GS; the iPad 2 and later, and iPod touch 4th gen.
Sports scores (baseball, basketball, football, hockey, soccer)
Italian Serie A
English Premier League
MLS
French Ligue 1
Spanish la Liga
Dutch Eredivisie
German Bundesliga
MLB
NCAA Football
NFL
NBA
NCAA Basketball
WNBA
NHL
Sport player stats
Sport team rosters
Sports league standings
Sports game schedule
Updated restaurant searches (type, price, Yelp reviews, distance, map, hours, phone number)
OpenTable reservations for restaurants
Movie listings per theatre
Rotten Tomato moview reviews
Movie facts
Movie trailers
Search by actor/actress
Launch apps
Send Tweet
Update Facebook status
Listen to notifications
Eyes Free car integration (in the next year)
International language and local search (Canada, Spain, Italy, Switzerland, Korean, Taiwan, Hong Kong, China)
Siri for iPad (new iPad only)
Single sign-on
Share from Photos, Safari, Maps, App Store, iTunes, Game Center
Public API for developers
Contact and Calendar integration
Phone
Reply to incoming calls with message (preset or custom) or save reminder (timed or geofenced)
Do not disturb toggle with fine-grain phone call exceptions, schedules, or allowing repeat calls
Facebook and Twitter compose buttons
Available over cellular
Apple ID unified with phone number, enabling FaceTime or iMessage answering on iPad or Mac
iCloud Tabs for Safari on other iOS devices and Macs
Offline Reading List
Photo uploads
Smart App banners link to App Store or launches
Fullscreen video in landscape
Shared Photo Streams with designated friends, includes comments
Photo Stream pictures in Mac screensaver
Photo Stream now a separate tab, not another album
VIPs - designated contacts cause notifications, e-mails flagged with stars, separate inbox
Flagged mailbox
Attach photos in-line
Open password-protected Office docs
Per account signatures
Fun new pull-to-refresh animation
Barcode collection for boarding passes, store cards, coupon, movie tickets
Pops up on lock screen when you arrive
Includes up-to-date-balance
Boarding passes update with gate changes
Cute deletion animation
Disable certain app interactions with a circle
Limit hardware buttons, touch, and motion control access
Single-app mode
Local search with 100 million business listings with Yelp reviews and pictures
Crowd-sourced traffic data with incident reports
Free turn-by-turn navigation with alternative route offers based on faster ETA
Navigation viewable from lock screen
Siri integration, finds spots along your route
Flyover (3D buildings)
Multitouch rotation, angle change, and zoom
Powered by TomTom
Pinch-out in maps goes to globe view
Game Center sync with OS X
Cross-platform turn-based and realtime gaming between iOS and Mac
Issue challenges to friends
Find Facebook friends
Audio and video sampling during playback
Pass Kit
Rich text on labels, fields, and text views
VoiceOver gestures
Control camera focus and exposure
Remote Web Inspector
CSS filters
Action Sheer
Web Audio API
Crossfade with CSS animation
Game Center in-app experience
Reminders
Video stabilization
Game groups
Bluetooth MAP support
Transit apps
In-app Bluetooth pairing
Face detection API
Inter-app audio
Frame drop data
Map Kit
Auto layout
State preservation
Pull to refresh on Table views
In-app purchase hosted content
Read and write image metadata
Collection views
In-app content purchases
Multi-route audio
Location-based reminders for iPad
Autocorrection for every keyboard
Global network proxy for HTTP
Manual reorder of reminders
Lost Mode - send a phone number to lost device which can be called with single tap
Kernel ASLR
Manual location entry for reminders
Custom vibrations for alerts
VoiceOver improvements
App in Safari search results
IPv6 support for Wi-Fi and LTE
HDR improvements
French, German, and Spanish dictionaries
Word highlights for speak selection
Search all fields in Contacts
New iPad Clock app
Improved keyboard layouts
Made for iPhone hearing aids
Top title bar changes color with app
New dialer layout
New iPod app
Granular privacy control
iCloud-stored user dictionary
Updated sharing menu with large icons
Music ringtones
Redesigned App Store and iTunes
iTunes Match now streams music (rather than just download)
Extended functions for China
Baidu
Sina Weibo
Tudou
Youku
Improved text input
Dictionary
Recommended Stories