Here's how to trade in your "old iPad" and get the best value for it
2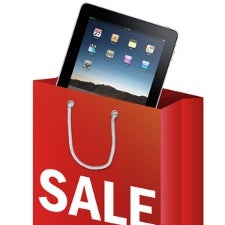 The new iPad arrived with a bang on Wednesday and you've had enough time to read our initial thoughts, check out the specs, drool on that new Retina display and appreciate its addition of LTE connectivity with no battery life sacrifices. In a nutshell, you want it. Just like you wanted the iPad 2 and just like you wanted the OG iPad.
But do you just stack it up along with that
"old iPad"
that just now looks terribly outdated in your eyes? And are you ready to just feed Apple another $500 or more without getting anything back for your iPad?
There are a couple of ways to sell your old iPad and not feel all that bad for getting the new one. You probably know the standard drill. You auction the old iPad on eBay, wait, finalize the deal and get your money. But that takes some time and if you don't like the idea of having to set up an auction and waste your precious time, there's a couple of other ways to get the most money out of your old tablet. We're talking about trade-ins - a simple way to sell your iPad and get some cash for the next one.
First comes preparation - take a look around the house and see if you can find the original packaging. Of course, have the charger ready. Prepare yourself to get less money if there's something cracked, dented or if you've engraved your iPad. Wipe it clean, take a deep breath and proceed.
We've looked at various retailers and compared the value you can get for the most basic
iPad 2 - a Wi-Fi-only version with 16GB of internal memory
. Of course, you'd need to have your iPad fully meet the requirements for each price point and if not the retailer may pay you less. On several occasions consumers have undervalued their products, and some of the retailers like Gazelle would up the price if they find necessary (it's around 5% of the cases). So without further ado, here's how iPad trade in programs stack up.
Condition: Acceptable | Good | Like New - $152 | $288 | $320
+ Best value.
Condition: Not fully functional | Fully functional - $130 | $290
+ Simple, only asks you if your iPad works or not.
+ Excellent value.
Condition: Broken, not fully functional (no water damage) | Mint condition - $65 | $270
+ Good returns.
Condition: Working - $247.50
+ In-store trade-in at time of new purchase.
+ Good value.
Condition: Working - $250
+ In-store trade-in.
+ Good value.
Condition: Broken (doesn't power on, cracked screen) | Good (scratched) | Flawless - $90 | $180 | $200
+ Good estimation of iPad condition, popular service.
Condition: Fair (fully functional) | Good | Like New - $115 | $215 | $225.75
+ Detailed estimation of iPad condition.
What happens to your old iPad?
In conclusion, it's up to you how and where to sell your used iPad. It seems like the best offers for trade-ins are online - you can get as much as $320 for your like new but still "old" iPad on Amazon. Nothing beats the simplicity of just walking in a store and trading the device in, and you can look forward to getting around $250 for good looking iPad in that case. Again, all of these estimates are for the most basic 16GB Wi-Fi only iPad 2.
If you're wondering what happens after the company buys your device, you probably won't be surprised to find out that most retailers like eBay just wipe the data on the iPad, clean it up and repackage it for sale to someone else. Most of those repackaged products end up on eBay, Amazon or get sold internationally.
Happy trading!