Here's how the Xiaomi Mi 4i is being tested before launch
10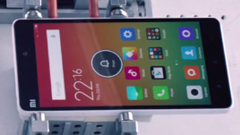 Xiaomi today announced
the
Mi 4i
, a new smartphone that offers more features than devices in its price category usually do. The Mi 4i will be available starting May for around $200, unlocked, first in India and then in other Asian markets.
Xiaomi is obviously proud of the Mi 4i, so it released a video that shows how the handset is tested before being launched. The video includes drop tests, a pressure test, a vibration test, and even a thermal shock test. What's more, it seems that, while the Mi 4i is not water-resistant, it may be able to withstand a few splashes from time to time.
Another thing that Xiaomi is showing is an "anti-grease coating test". The Mi 4i's rear cover is treated with an anti-grease coating that's effective not just against fingerprints, but also against marker pens, for example (meaning that you can erase the ink). As a bonus, you can watch a video showing how the Sunlight Display of the Mi 4i works, plus another video presenting the device's automatic assembly line.
As reported earlier today, the highlight features of the Xiaomi Mi 4i include Android Lollipop customized with MIUI 6 UI, a 5-inch 1080p screen, a 13 MP rear camera, an octa-core Qualcomm Snapdragon 615 processor, and 2 GB of RAM.