Heads up! The Neo M1, a solid mid-range Android phone, is on a holiday sale for $120, down from $180
4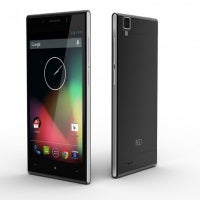 Heads up, people! The Neo M1, which is a solid mid-ranger with a thin metallic design, a 5-inch 720p display, a 13MP Sony BSI camera, and a quad-core MediaTek chip is now on sale for $120, down from $180, through the company's own web store. Needless to say, that's a lot of phone for this kind of money! There are some rough parts to the deal, though.
First, shipping from China will take some time, ranging from 15 business days to, basically, forever. At least your money is handled via PayPal, which means you stand a fair chance at getting a refund if anything goes awry.
Second, at launch Neo promised that a Windows Phone version will be available too, but this day is yet to come, so don't fall for the "dual operating system" thing in the spec sheet.
And third, this baby runs Android
4.2
Jelly Bean, which is enough to get by, but it's no Android 5.0 Lollipop.
There, you have all the minimum necessary information to make your choice. Everything else is described at Neo's web store, which is entirely in English and is linked to in the source.
source:
Neo
via
GizChina